Hilti vs. Simpson® Chemical Anchors
Hilti vs. Simpson® Chemical Anchors
Tough jobsites need top performing adhesive anchors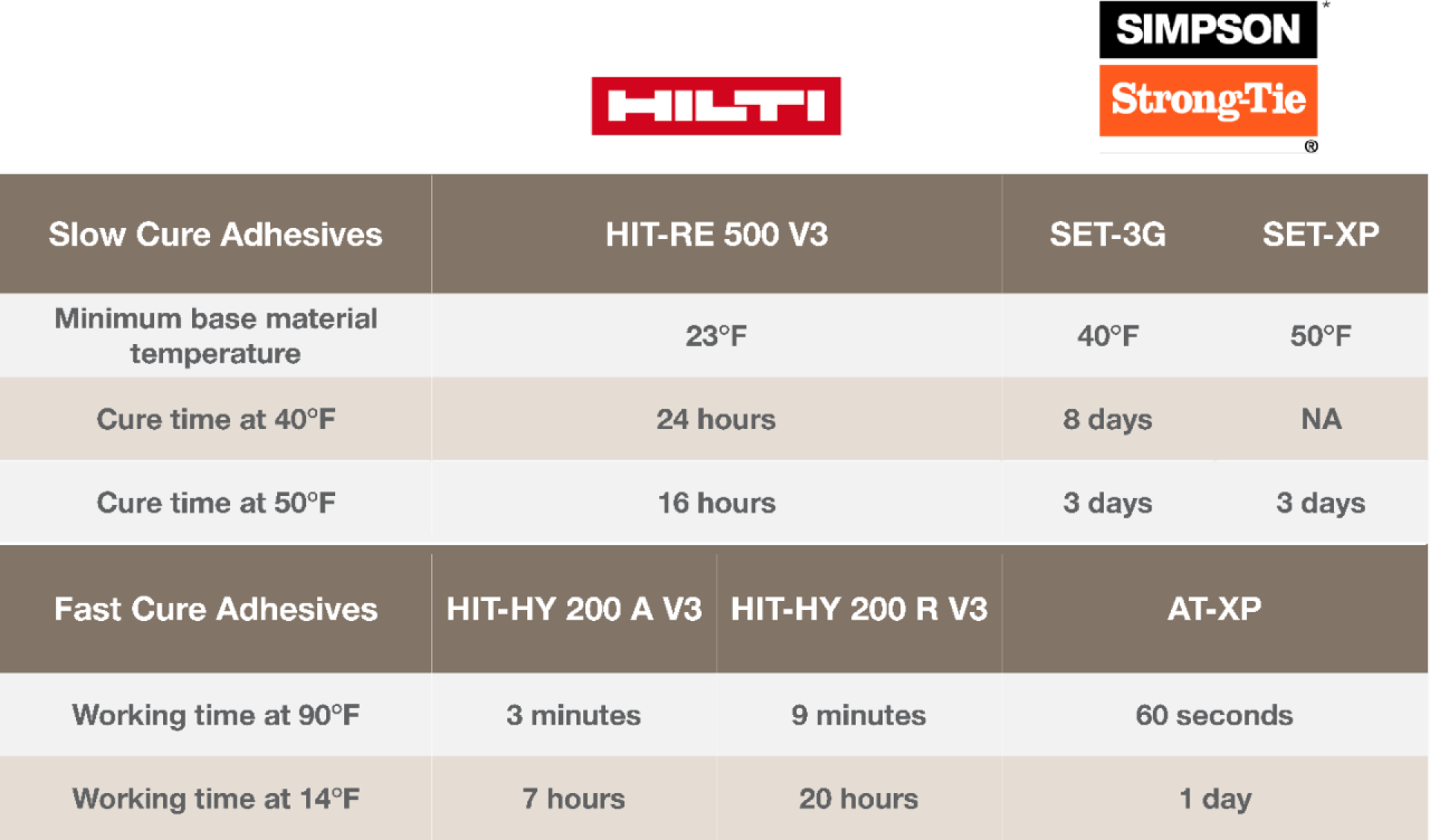 When your project is heavily dependent on the weather, the more versatile your top-performing adhesives are, the better. When compared with Simpson® chemical adhesives, our flexible range of slow cure adhesives offers faster cure times for both hot and cold climates, along with more working time to increase efficiency.
Hilti provides more with:  

HIT-HY 200-A V3: faster cure times for cold weather down to 14 degrees Fahrenheit
HIT-HY 200-R V3: while a faster cure than HIT-HY 200-A V3, the HIT-HY 200-R V3 offers a slower cure for more working time specifically for hot weather up to 104 degrees Fahrenheit
HIT-RE 500 V3: the fastest slow-cure epoxy on the market, and the only one that can be installed in temperatures as low as 23 degrees Fahrenheit
KEEP PRODUCTIVITY HIGH, RAIN OR SHINE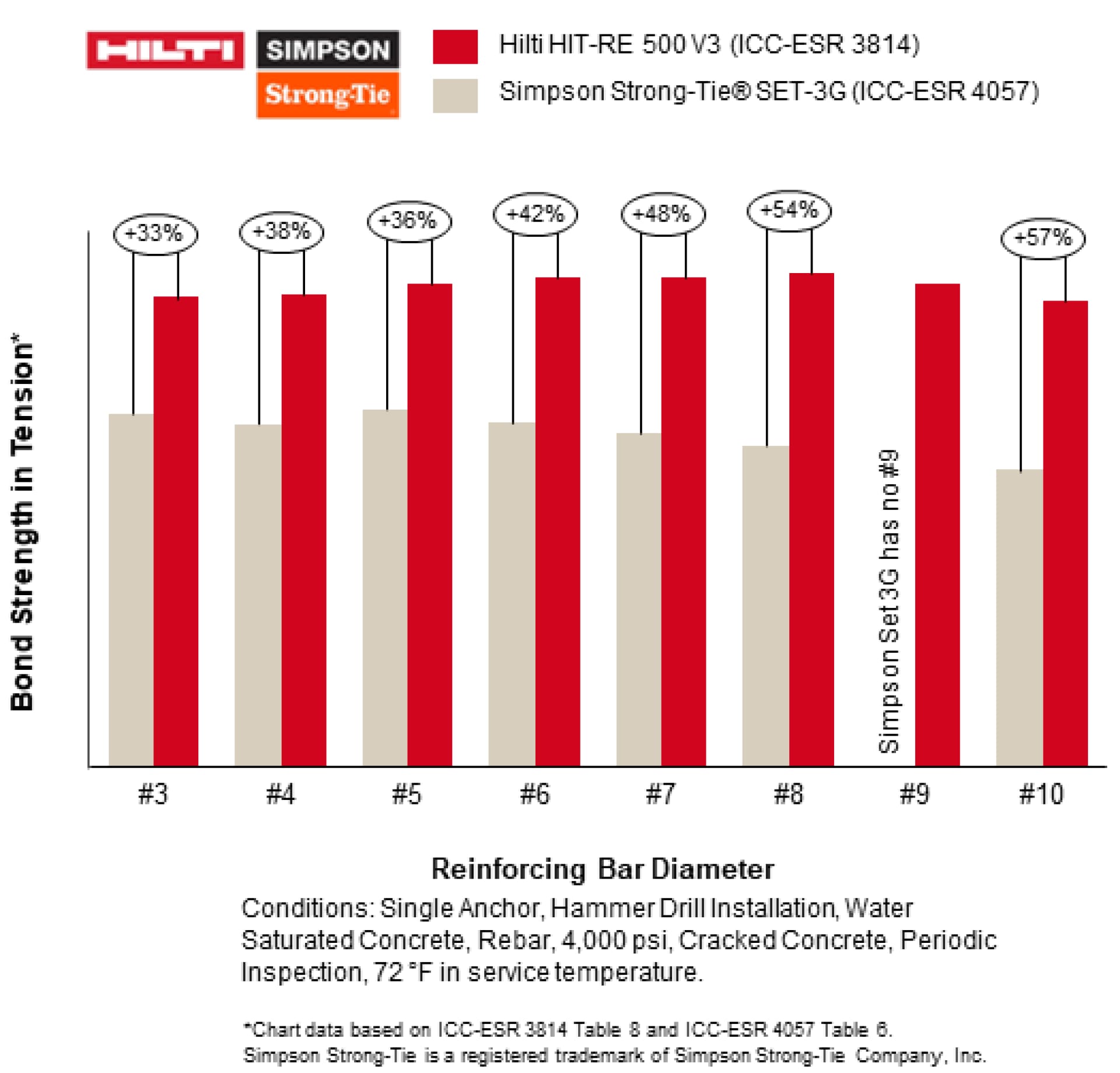 Damp conditions cause unwanted downtime, but Hilti's top performing HY 200 A/R V3 injectable adhesive anchors keep the job moving forward in both wet and dry climates. While the competition's adhesives take a load reduction in water-saturated concrete, our specifically designed products maintain load capacity without compromise.
Don't Sweat It; SafeSet It
Whatever the status of your concrete, SafeSet makes setting anchors faster, easier and safer than ever before. It's the first fully cordless system that goes beyond removing dust and debris during the drilling process to take the guess-work out of mortar injection as well. Combined with our top performing adhesives, SafeSet even helps improve productivity on jobsites in hot and cold climates where adhesives from our competitors simply can't function.
On top of limiting dust exposure, SafeSet can save installers up to 60% on installation time by eliminating the hole cleaning steps that competitors like Simpson®  still require. To improve efficiency even more, use the new HDE 500 Smart dispenser's precision dosage functions to reduce mortar wastage by up to 20%.
Lighten the load
Adhesive anchors come in a variety of sizes depending on the application. Usually, you'd need a different dispenser for each product. Good news: our dispensers are cross-compatible with our core adhesive portfolio. Say goodbye to searching the jobsite for the right equipment; choosing Hilti means you can simply switch out adhesives and nozzles to keep on working.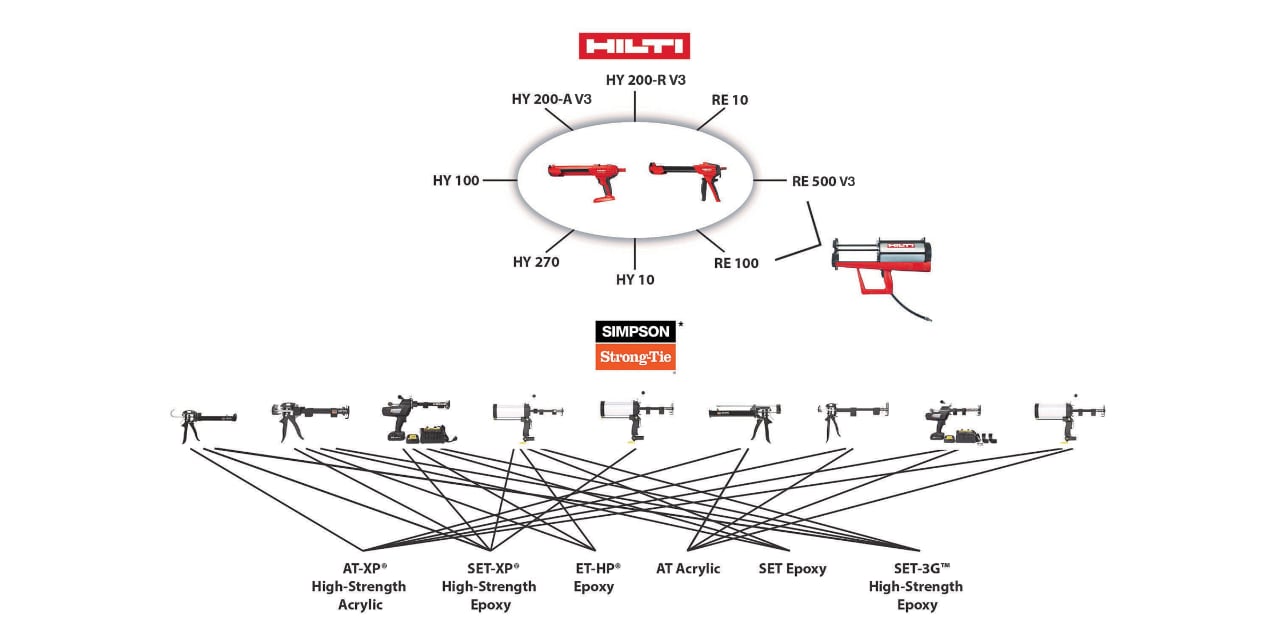 More advancements for better performance
When you combine HY 200 V3 with the next generation SafeSet system, you get performance the competition simply can't match. With all-weather versatility, more reliability, easier installations and a single connected tool platform, our chemical anchors are in a league of their own.
Improved rebar & jobsite resilience
Up to 30% better loads for rebar
Water-saturated loads same as dry concrete
Better performance in high temperature ranges
New water-filled borehole option for rebar and threaded rods

New ESRs for concrete and masonry
All new loads and applications are backed by ICC-ES code

Enhanced installation instructions
Online Instructions For Use (IFU) that generates custom steps based on your application inputs
Next Generation SafeSet system
New powerful, cordless TE 60 and TE 30 hammer drills
New VC 140 "vac-pack" vacuum allows for maximum mobility on the jobsite
New HDE Smart battery-powered dispenser is cross-compatible with the core Hilti adhesive portfolio and automates tricky injection steps
® *Trademark owned by Simpson Strong-Tie Company Inc.