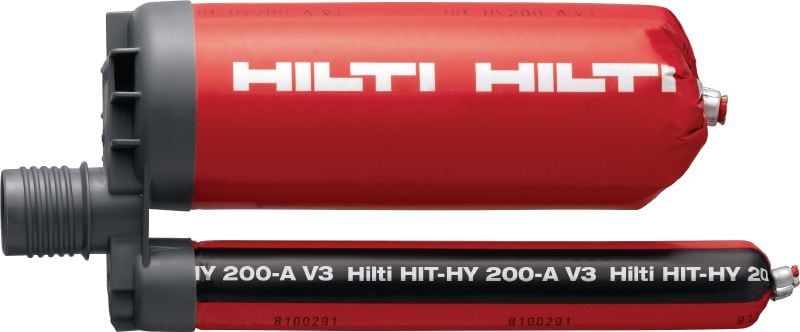 Move cursor over image to zoom.
Click on image to zoom.
Move cursor over image to zoom.
Click on image to zoom.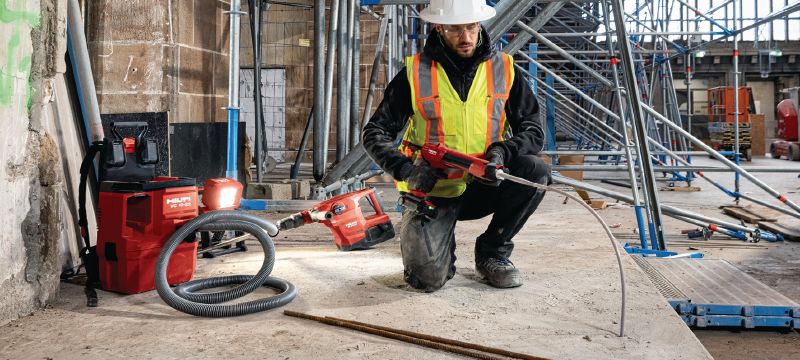 Move cursor over image to zoom.
Click on image to zoom.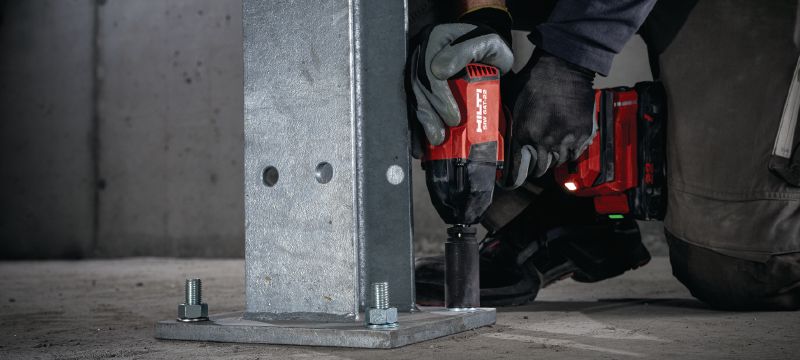 Move cursor over image to zoom.
Click on image to zoom.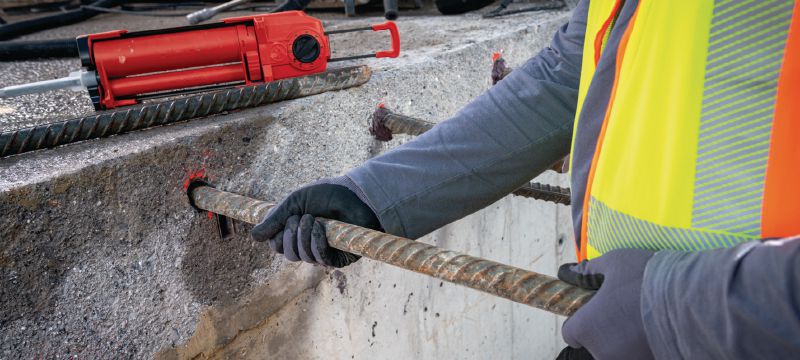 Move cursor over image to zoom.
Click on image to zoom.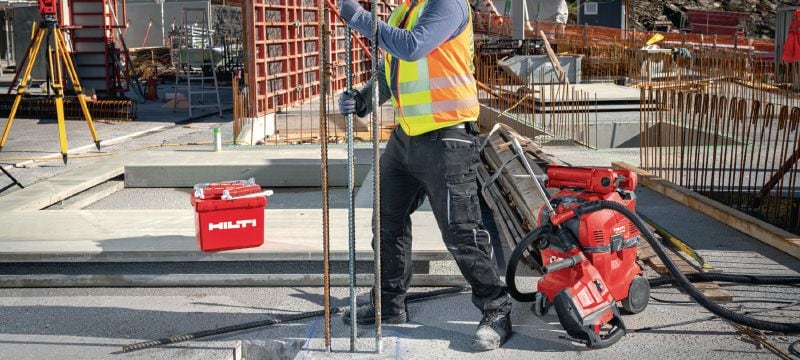 Move cursor over image to zoom.
Click on image to zoom.
HIT-HY 200-A V3 Adhesive anchor
New product
Item #r14406294
Ultimate-performance injection mortar - fast-cure adhesive anchor approved for structural base plate anchoring and post-installed rebar connections in concrete
Base materials: Concrete (cracked), Concrete (lightweight), Concrete (uncracked), Masonry (grout-filled CMU)
Base material condition: Dry, Water-filled, Wet
Approvals / Test reports: DOT approval (contact Hilti), ICC-ES report (concrete), ICC-ES report (masonry), LABC, Seismic
More technical data
Review
Features & Applications
Features
Faster curing - optimized for anchoring applications in dry concrete, wet concrete, or water filled drill holes, with a wide working temperature range (-10°C to +40°C).
Easier to specify and order – use PROFIS Engineering to design steel to concrete or concrete to concrete connections according to EC2, TR069, TR082 or the Hilti Design Method
Versatile adhesive anchor for wide ranging conditions - approved for hammer drilled, hollow drilled, and diamond cored holes (with TE-YRT).
Faster, simpler, and safer installations – combine with our fully cordless SafeSet system for a seamless installation solution to reduce time on-site and installation errors
Extensive approvals available - including ETA for cracked and uncracked concrete, seismic C2, fire resistance data, and with service life up to 100 years in rebar and anchor
Applications
Anchoring structural steel connections (e.g. steel columns, beams) to concrete
Fastening secondary steel structures (e.g. racking, machinery, guard rails, sound barriers) to concrete
Concrete connections designed both as rigid and as simply supported
Strengthening concrete and retrofitting reinforced concrete buildings, including replacing misplaced/missing cast-in rebar with post-installed rebar
Structural concrete connections with post-installed rebar
For approval or certificate information, please see individual items.
Better adhesives mean stronger anchors
Don't sacrifice confidence for convenience. With the Hilti adhesive anchor HIT-HY 200-A V3, you get both.
Worried about the demands of the job? Relax. We've formulated a special chemical anchor, HIT-HY 200-A V3 with advanced working time, to handle just about anything the job throws at you.
Hilti offers the highest performing, most reliable anchoring solutions in the industry. HIT-HY 200-A V3 now adds ICC-ES approval for grout filled CMU and twenty percent higher published loads on average in cracked concrete, giving you even more security in seismic anchoring applications. HIT-HY 200-A V3 with SafeSet™ Technology eliminates the need for manual hole cleaning, which increases productivity all while using a system that meets the new OSHA regulations for silica dust. Take productivity and reliability to the next level with Hilti HIT-HY 200-A V3 and SafeSet™ Technology.
Faster chemical anchor installation
Hilti SafeSet system
Hilti SafeSet is a proven system that, when used correctly, helps ensure fast and reliable installation every time. By automatically cleaning the hole, SafeSet can save you up to 60 percent of the installation time.
Learn more
Select the right concrete anchors and adhesives
Hilti anchor selector chart
Few things are more important in concrete construction than choosing the right adhesive anchor and anchor rod for your application. The right pairing affects performance, cost-effectiveness and productivity.
Download the anchor selector chart