Move cursor over image to zoom.
Click on image to zoom.
Move cursor over image to zoom.
Click on image to zoom.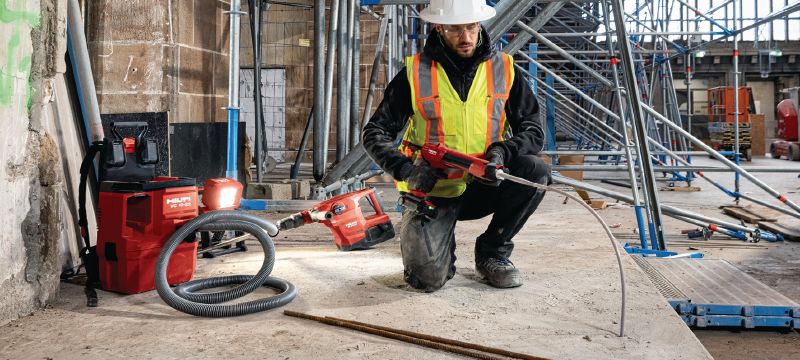 Move cursor over image to zoom.
Click on image to zoom.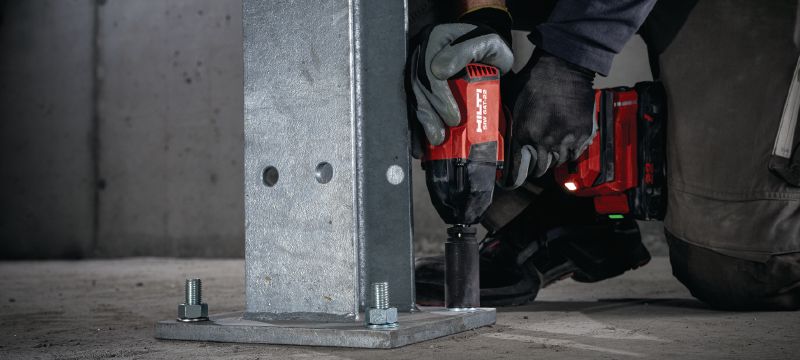 Move cursor over image to zoom.
Click on image to zoom.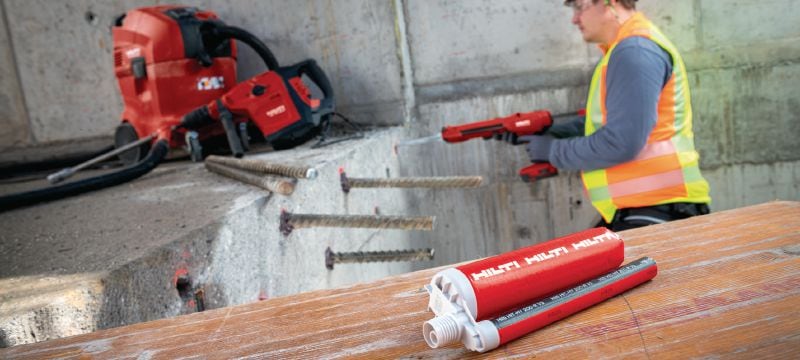 Move cursor over image to zoom.
Click on image to zoom.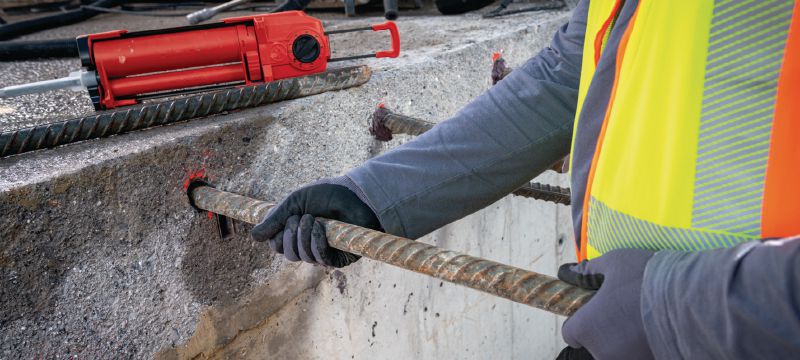 Move cursor over image to zoom.
Click on image to zoom.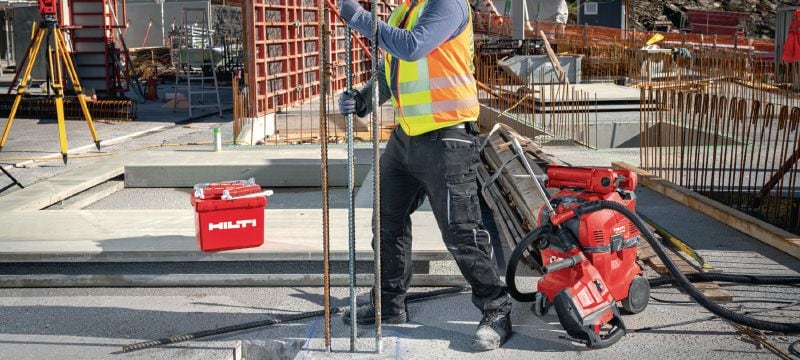 Move cursor over image to zoom.
Click on image to zoom.
HIT-HY 200-R V3 Adhesive anchor
New product
Item #r11219549
Ultimate-performance injectable hybrid mortar with approvals for post-installed rebar connections and anchoring structural baseplates
Base materials: Concrete (cracked), Concrete (lightweight), Concrete (uncracked)
Base material condition: Dry, Water-filled, Wet
Approvals / Test reports: DOT approval (contact Hilti), ICC-ES report (concrete), ICC-ES report (masonry), LABC, Seismic
More technical data
Review
Features & Applications
Features
Optimized embedment depth – higher mortar strength makes more efficient embedment depths possible and may help post-installed rebar perform better than cast-in bars
Easier to specify and order – use PROFIS Engineering to design steel to concrete or concrete to concrete connections according to ACI or the Hilti Design Method
Optimized for post-installed rebar – longer working time for rebar applications in dry concrete, wet concrete, or water filled drill holes, with a wide working temperature range from (+14°F to +104°F)
Extensive approvals available – including ICC-ES ESR for cracked and uncracked concrete, grout-filled masonry, and seismic category A-F
No hole cleaning required - pair with HIT-Z anchor rods or drill with hollow drill bit and a compatible vacuum cleaner for faster workflows
Applications
Structural concrete connections with post-installed rebar
Fastening secondary steel structures (e.g. racking, machinery, guard rails, sound barriers) to concrete
Anchoring structural steel connections (e.g. steel columns, beams) to concrete
Strengthening concrete and retrofitting reinforced concrete buildings, including replacing misplaced/missing cast-in rebar with post-installed rebar
Concrete connections designed both as rigid and as simply supported
For approval or certificate information, please see individual items.
Buy yourself some time with HIT-HY 200-R V3
Take quality and efficiency to new heights
Properly and efficiently installing an anchor is stressful enough when you don't have a second to spare, but factor in adverse jobsite conditions and it only gets worse. Luckily, we've developed chemical anchors that help get the job done despite the hurdles a jobsite might have.
Ultimate, fast-cure adhesive HY 200-R V3 boosts the productivity of installing anchors in both wet and dry conditions. Offering ICC-ES approval for concrete, masonry and seismic loading, its working time is optimized for rebar and deep anchoring applications.
Always the right fit
With HY 200 R-V3 and its sibling HY 200-A V3, engineers can submit designs with one set of load values without having to resubmit if needs change. Both versions are interchangeable depending on the location and climate of the jobsite. The contractor can then pick whether they need HY 200-R V3 for warm climates or HY 200-A V3 for accelerated cure times in colder climates.
The SafeSet System
Hilti SafeSet is a proven system that helps to ensure faster, easier and safer Hilti anchor installation, every time.
With either automatic cleaning of the hole using Hilti's Hollow Drill Bit system with the new VC 140 "vac-pack" or the zero-cleaning-required HIT-Z rod, SafeSet can save installers up to 60% on installation time while helping to limit dust caused by drilling and manual cleaning.
SafeSet is also designed to work in damp concrete, making the toughest of jobsite conditions work for you.
With the ultimate performance of HY 200 V3 combined with the SafeSet system, you can take productivity to new heights and enjoy peace of mind at the same time. As the first fully cordless system on a single battery platform, it's the fastest, safest and easiest way to install an anchor. When you're ready, discover the difference for yourself.