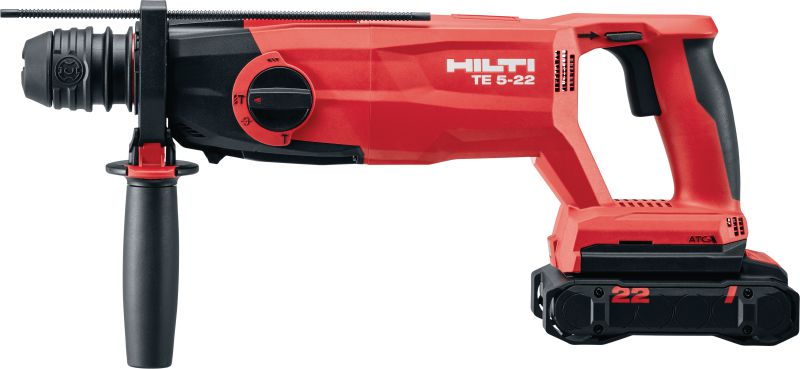 Move cursor over image to zoom.
Click on image to zoom.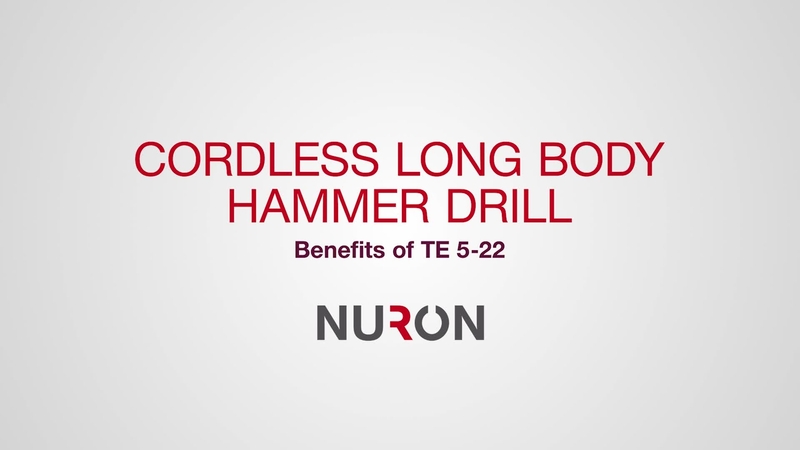 TE 5-22 Promo (16:9, EN) (HNA)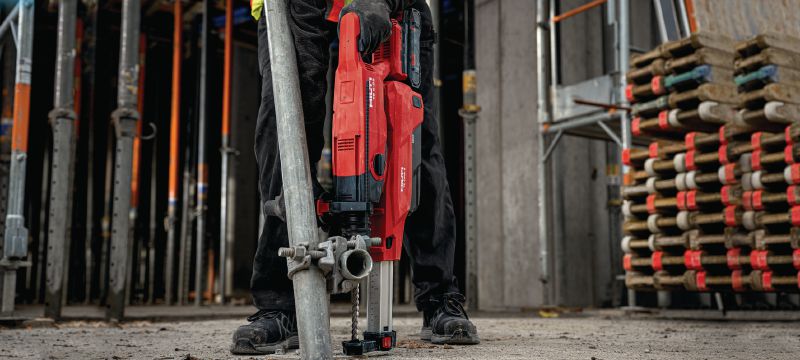 Move cursor over image to zoom.
Click on image to zoom.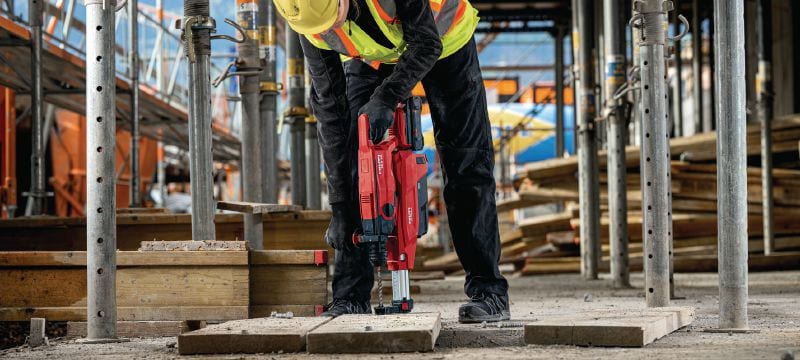 Move cursor over image to zoom.
Click on image to zoom.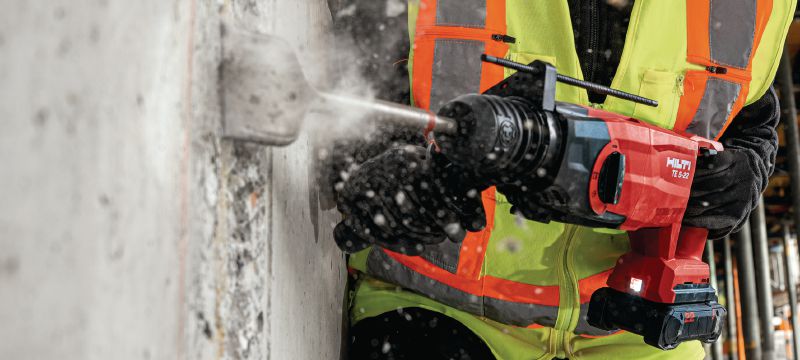 Move cursor over image to zoom.
Click on image to zoom.
TE 5-22 Cordless rotary hammer
New product
Item #r17816054
Powerful SDS Plus rotary hammer drill with long body and spade grip ideal for downward drilling (Nuron battery platform)
Weight according EPTA-Procedure 01/2003 without battery: 6 lb.
Optimum Hammer drilling range: 1/4 - 23/32 in
Hammer drilling diameter range: 5/32 - 1-3/32 in
More technical data
Review
Features & Applications
Features
Hilti's ultimate SDS Plus drill for formwork and baseplates – the long tool body makes the TE 5-22 our most comfortable rotary hammer for drilling downwards
Outsized performance – Hilti's best performance-to-weight ratio in this tool category, with enough power for tough concrete drilling jobs up to 16 mm diameter
One-for-all versatility – chipping mode and exchangeable chucks (sold separately) mean you can use this rotary hammer with SDS chisels, hole saws, right-angle chucks and even wood/steel drill bits
Practical safety features – equipped with Active Torque Control to help protect against unexpected rotation, and compatible with various dust removal solutions (sold separately)
Nuron battery platform – cordless SDS Plus rotary hammer drills without compromise thanks to longer-lasting batteries, high-performance drill bits and a range of services to help you stay productive, today and tomorrow
Applications
Drilling and hammer drilling in concrete and masonry, especially in downward-facing working positions
Virtually dust-free drilling and chiseling (TE DRS-5 on-board dust removal system with chipping head or TE DRS-C vacuum cleaner connector required)
Light-duty chiseling – such as tile scraping, channel cleaning or surface correction
Occasional drilling in wood and steel (with optional quick-release chuck)
Setting anchors and drop-in anchors (with optional setting tools)
Services
Product warranty against parts and manufacturing irregularities for 20 years
Service is free of charge up to 2 years, including wear & tear, pick-up and delivery
1 or free, in and out of the repair center the same day or repair is free of charge
More information about Tool Services
Fleet Management
We manage your tools so you can manage your business.
Monthly usage fee covering all tool, service and repair costs helping to ensure absolute cost control and back-office efficiency.
High-performing tools and latest technology help to increase jobsite productivity.
Loan tools during repair to reduce downtime.
Temporary tools for peak times and special applications help to reduce investments.
Theft coverage helps to reduce financial risk and unexpected expenses.
More information about Fleet Management