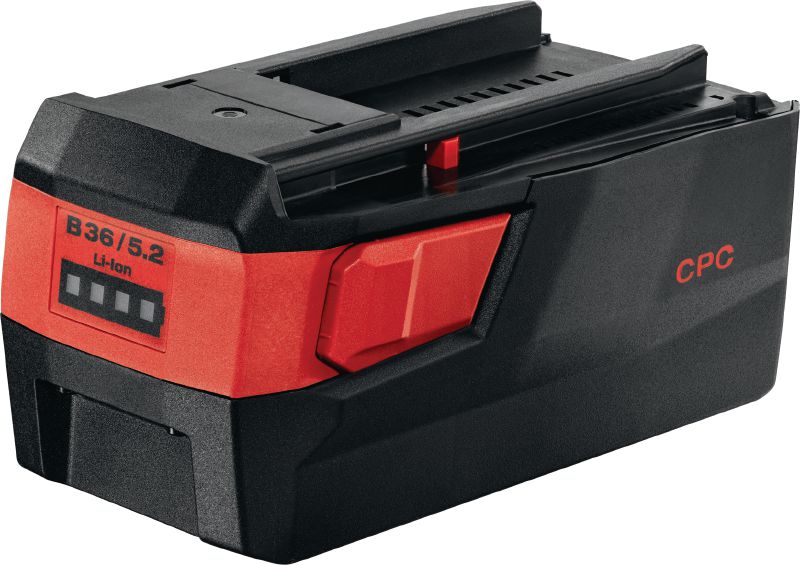 Move cursor over image to zoom.
Click on image to zoom.
B36 5.2 36V Battery
New product
Item #r4634159
Ultimate-power 36V 5.2 Ah Li-ion battery
Weight: 3 lb.
Dimensions (LxWxH): 6.6 x 3.6 x 3.2 in
Working temperature range: 1 - 140 °F
More technical data
Review
Features & Applications
Features
High-capacity battery providing extreme run time for highly demanding applications
Includes Hilti Cordless Power Care (CPC) technology – on-board processors monitor each battery cell to deliver more reliable, consistent and longer-lasting power on your jobsites
Fully sealed electronics for increased protection against dust, humidity and water
Rubberized, glass-fiber reinforced casing – up to four times more resistant to damage from dropping and twice as resistant to extreme temperatures than standard ABS plastic
Casing designed to cool the battery to the ideal temperature for faster charging
Applications
Compatible with most Hilti 36V tools
Compatible with all Hilti 22V and 36V chargers
Applications in extreme temperature conditions – from 60° C (140° F) down to -17° C (1.4° F)
Tough jobs requiring maximum performance and battery capacity for extended run-time
Services
Product warranty against parts and manufacturing irregularities for 20 years
Service is free of charge up to 2 years, including wear & tear, pick-up and delivery
1 or free, in and out of the repair center the same day or repair is free of charge
More information about Tool Services
Fleet Management
We manage your tools so you can manage your business.
Monthly usage fee covering all tool, service and repair costs helping to ensure absolute cost control and back-office efficiency.
High-performing tools and latest technology help to increase jobsite productivity.
Loan tools during repair to reduce downtime.
Temporary tools for peak times and special applications help to reduce investments.
Theft coverage helps to reduce financial risk and unexpected expenses.
More information about Fleet Management