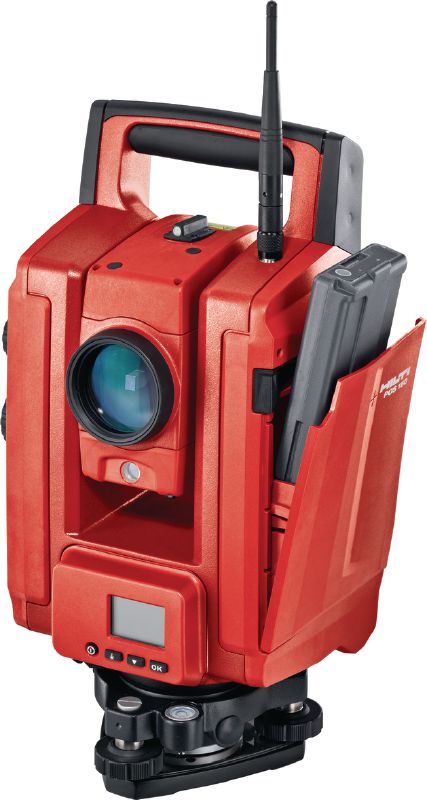 Move cursor over image to zoom.
Click on image to zoom.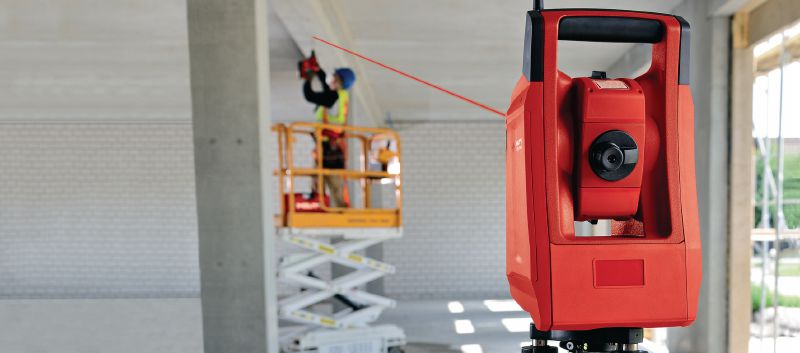 Move cursor over image to zoom.
Click on image to zoom.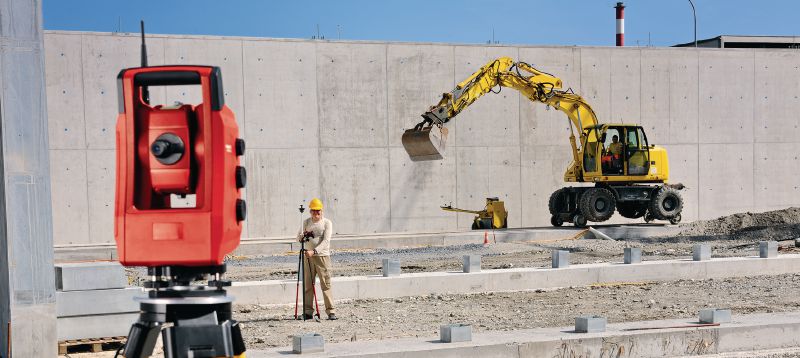 Move cursor over image to zoom.
Click on image to zoom.
POS 180 Robotic Total Station
New product
Item #r51294
Long-range robotic total station for one-person operation with 3" angle measurement accuracy
Distance measurement accuracy: ±2 mm + 2 ppm
Operating distance range – of remote control (diameter): 5 - 1969 ft
IP protection class: IP 55 (EN 60529)
More technical data
Review
Features & Applications
Features
Measures accurate distances to surfaces without the need for extra reflectors
One-person layout and measuring – delivers significant productivity gains
Can be stationed "anywhere" or set up quickly over a reference point with the help of a plumb laser
No locking required – allows simultaneous pivoting and targeting
Applications
Laying out positions and levels for excavations, formwork and fastening points on floors and ceilings
Measuring offsets and slopes precisely
Transferring control lines and points vertically over several floor levels
As-built measurements, direct area measurement and planning
Services
After 2 years repair costs are capped
Product warranty against parts and manufacturing irregularities for 20 years
No registration or proof of purchase ever required
More information about Tool Services
Fleet Management
We manage your tools so you can manage your business.
High-performing tools and latest technology help to increase jobsite productivity.
Loan tools during repair to reduce downtime.
Theft coverage helps to reduce financial risk and unexpected expenses.
Free verification of tool accuracy in accordance with manufacturer's specifications.
Monthly usage fee covering all tool, service and repair costs helping to ensure absolute cost control and back-office efficiency.
More information about Fleet Management
Robotic Total Station
The ultimate balance of accuracy, efficiency, and convenience
Hilti instrumentation specialists have enhanced our Mechanical Total Station design with added features to create new Robotic Total Stations that push productivity to new levels. 
Compared to conventional layout tools like line lasers, strings and tape measures, you can increase productivity exponentially with Hilti Robotic Total Stations.
Calculated accuracy, productivity, and control
Accurate to a fraction of a degree
Plot accurate layout markings from 7 feet to more than 9,000 feet away, including angle measurements within 5 seconds of a degree and +/- 2mm + 2 ppm. 
Intuitively simple
Automatic target acquisition, simple push-button operation and intuitive manipulation of crisp digital screen images make any task easier to complete sooner.
Exceptionally fast and efficient
With prism tracking and remote control, operations can be handled by one person in significantly less time. Hilti Robotic Total Stations deliver accurate readings over great distances four times faster than two people using traditional layout methods, and twice as fast as with Mechanical Total Solutions.
Two-way BIM compatible
Whether you want to carry the latest digital design plans into the field, or capture "as built" dimensions and locations to feed back into your BIM system, Hilti Robotic Total Stations put the control at your fingertips.