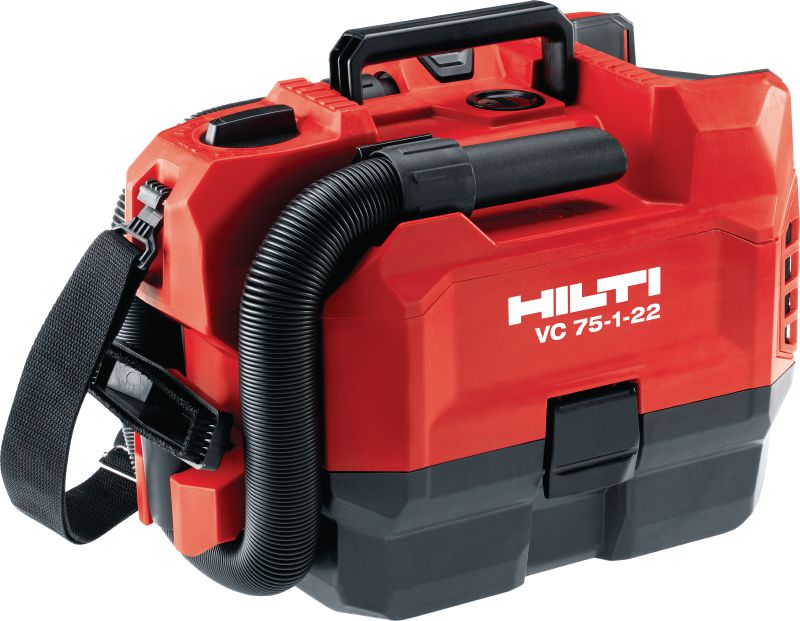 Move cursor over image to zoom.
Click on image to zoom.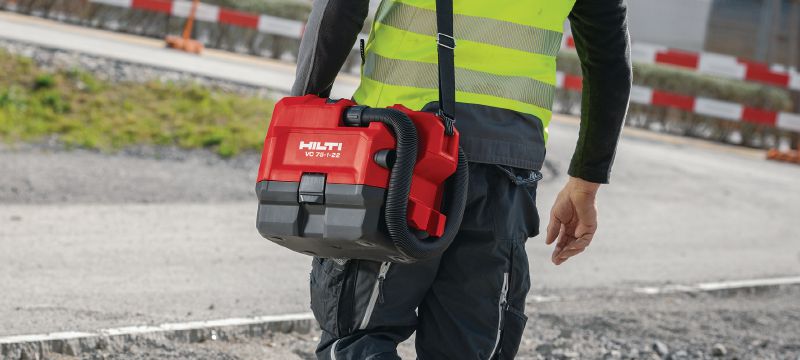 Move cursor over image to zoom.
Click on image to zoom.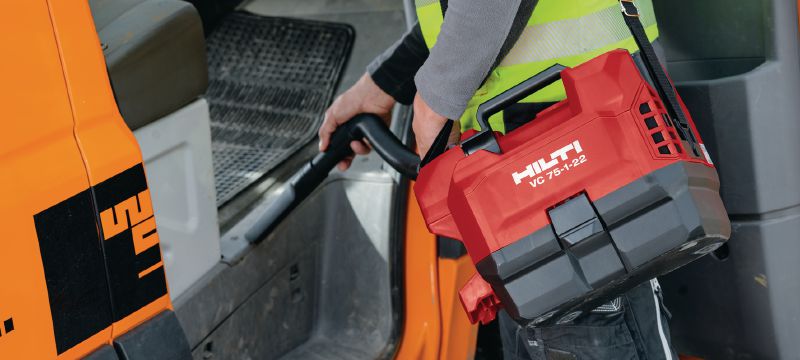 Move cursor over image to zoom.
Click on image to zoom.
VC 75-1-22 Cordless vacuum
New product
Item #r13336054
Compact, portable cordless vacuum for quick clean-ups around construction sites and the shop (Nuron battery platform)
Max. Vacuum: 1.6 psi
Container capacity: 1 gallon (US)
Dust capacity: 7 lb.
More technical data
Review
Features & Applications
Features
Compact and capable cordless vacuum – high-output Nuron batteries fuel the best suction possible without compromising on mobility, weight and size
Easier to transport – shoulder straps, slimline design and on-board accessory storage help to free your hands and space in your van
Stretchable vacuum hose – ideal when cleaning where space is limited, the hose extends up to 8 ft. from the vacuum cleaner
Filter cleaning – push-button filter cleaner that dislodges dust and helps keep suction high
On the Nuron battery platform – cordless jobsite vacuums without compromise thanks to longer-lasting batteries and a range of services to keep you productive, today and tomorrow
Applications
Cleaning dry mess around jobsites – two power modes so you can balance higher suction with longer battery life depending on the area to be vacuumed
Services
Product warranty against parts and manufacturing irregularities for 20 years
Service is free of charge up to 2 years, including wear & tear, pick-up and delivery
1 or free, in and out of the repair center the same day or repair is free of charge
More information about Tool Services
Fleet Management
We manage your tools so you can manage your business.
Monthly usage fee covering all tool, service and repair costs helping to ensure absolute cost control and back-office efficiency.
High-performing tools and latest technology help to increase jobsite productivity.
Temporary tools for peak times and special applications help to reduce investments.
Theft coverage helps to reduce financial risk and unexpected expenses.
More information about Fleet Management