Move cursor over image to zoom.
Click on image to zoom.
DX 9 Promo (16:9, EN)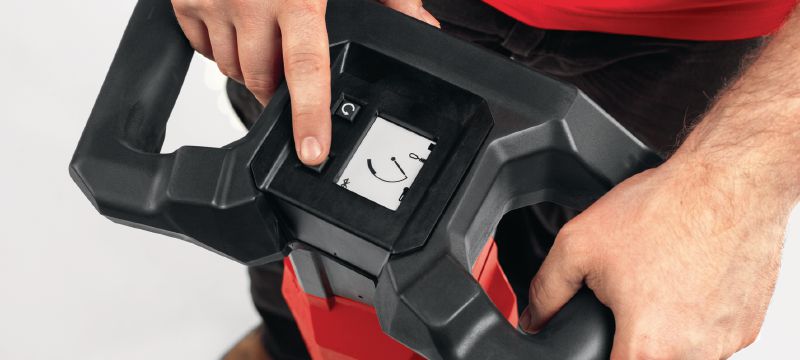 Move cursor over image to zoom.
Click on image to zoom.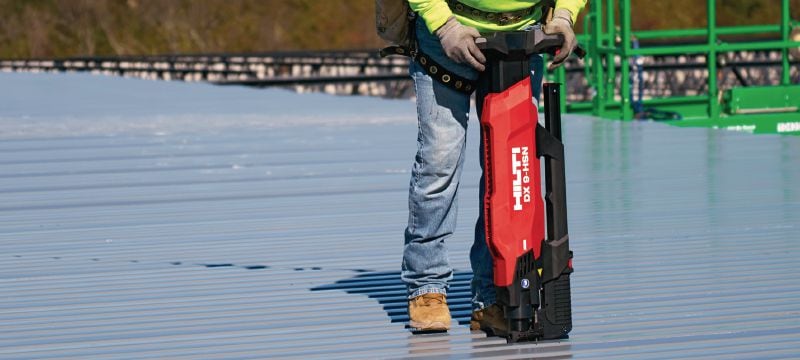 Move cursor over image to zoom.
Click on image to zoom.
DX 9-HSN Powder-actuated decking tool
New product
Item #r7670416
Digitally enabled, fully automatic, high-productivity, stand-up powder-actuated nailer for fastening metal decks
Dimensions (LxWxH): 39.3 x 17.5 x 7.4 in
Weight: 30 lb.
Fastener Intake: 60 nails
More technical data
Review
Features & Applications
Features
Revolutionary design – upright working position for high speed of use and long-term user comfort
Ergonomically designed handle to enhance user comfort
Adjustable power regulator – precise control for more reliable fastenings
Unique piston brake system helps to prevent fasteners punching through the deck
Easy to clean and maintain on jobsites
Applications
Fastening metal roof decks to 1/8" to 3/8" thick bar joists with X-HSN nails
Fastening metal floor decks to 1/8" to 3/8" bar joists and light-gauge steel structures with X-HSN nails
Hilti DX 9 Deck Fastening Tool
Take control of deck fastening with the digitally enabled DX 9 powder-actuated stand up tool
The new DX 9 is a robust, reliable, smart and comfortable stand-up decking tool. It features advanced engineering, a digital service indicator with Bluetooth connectivity and an ergonomically designed handle.
Always innovating
Thanks to customer feedback and Hilti innovation, the DX 9 takes steel deck installation to the next level. Totally re-engineered mechanics have made the tool more advanced and more reliable for the most demanding job conditions.
Real time information
The digital service indicator on the DX 9 gives real-time feedback on:
When to clean and service the tool, maximizing productivity on the job 
Tool's operating temperature range is also displayed, helping you to work at the optimal pace
Get connected
Press the Bluetooth button on your DX 9 to sync it to the Hilti Connect app, where you'll find how-to videos, tool usage data and a simple way to request Hilti service.

designed for comfort
The DX 9 revolutionary design features:
An upright working position - no more bending over and quick fastening

Ergonomically designed handle and smaller grip for enhanced user comfort

Reinforced handle for more consistent feel