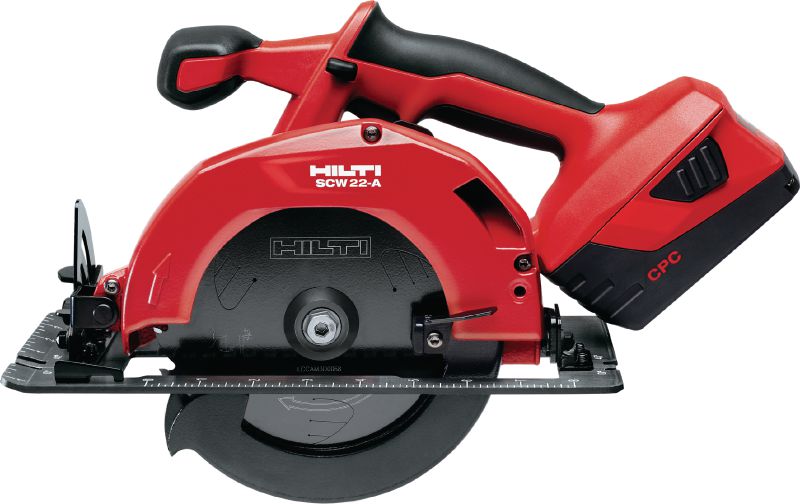 Move cursor over image to zoom.
Click on image to zoom.
SCW 22-A Cordless circular saw
New product
Item #r4824
22V cordless circular saw with optimized power-to-weight ratio for straight cuts up to 57 mm depth
Max. cutting depth: 2.24 in
Blade diameter: 6.5 in
Base material: Wood, Sandwich panel
More technical data
Review
Features & Applications
Features
Compact and mobile – for cut-as-you-go work on the jobsite
Rapid blade stop and dust extraction for maximum safety
Low weight makes the circular saw more versatile and less tiring to use in any position
Suitable for use with the Hilti guide rail
Dust extraction
Applications
General construction – cutting formwork boards, OSB, plywood, chipboard, plastics, rafters and battens
Interior finishing – cutting drywall board, cement board, MDF and HDF
Cutting formwork boards, planks, battens, OSB, chipboard, plywood sheets and plastics
Trimming and fitting wood and sheet materials
Ripping and crosscutting as well as bevel and mitre cuts
Services
Product warranty against parts and manufacturing irregularities for 20 years
Service is free of charge up to 2 years, including wear & tear, pick-up and delivery
1 or free, in and out of the repair center the same day or repair is free of charge
More information about Tool Services
Fleet Management
We manage your tools so you can manage your business.
Monthly usage fee covering all tool, service and repair costs helping to ensure absolute cost control and back-office efficiency.
High-performing tools and latest technology help to increase jobsite productivity.
Temporary tools for peak times and special applications help to reduce investments.
Theft coverage helps to reduce financial risk and unexpected expenses.
Individual labels and online visibility provide tool fleet transparency.
More information about Fleet Management