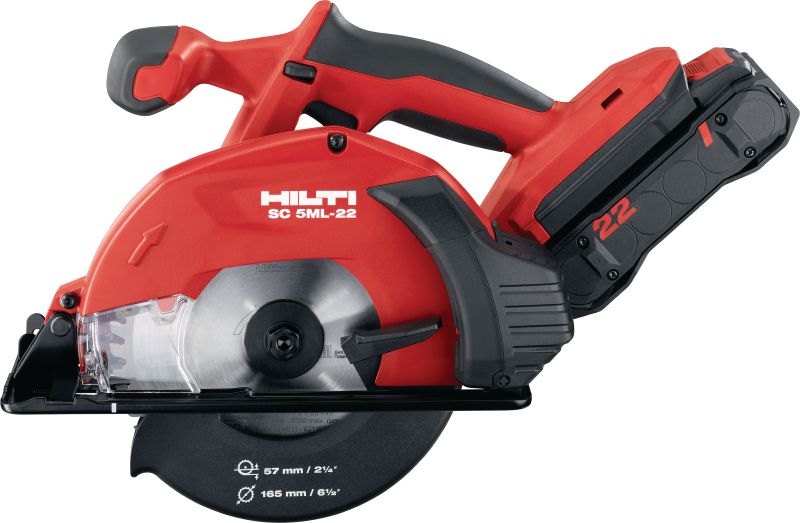 Move cursor over image to zoom.
Click on image to zoom.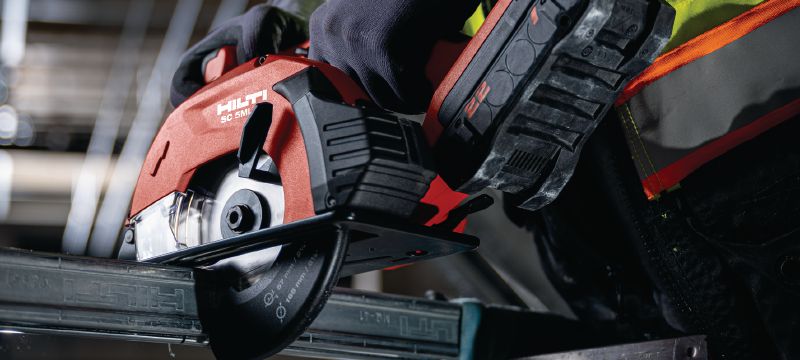 Move cursor over image to zoom.
Click on image to zoom.
SC 5ML-22 Cordless circular saw for metal
New product
Item #r13250370
Cold-cutting cordless metal saw for fast, precise cuts up to 57 mm│2-¼" depth (Nuron battery platform)
Max. cutting depth: 2.24 in
Base material: Metal, Steel, Stainless steel, Non-ferrous metal
No load RPM: gear 1: 3500 rpm
More technical data
Review
Features & Applications
Features
Cold cut metal saw – virtually spark-free metal and stainless cuts with cordless portability
Better handling – low weight, ergonomic grips and LED work light help you to slice quickly through your cutting line
Comprehensive safety features – chip collector and rapid blade brake help to minimize the hazards from sawing on your jobsites
Suitable for straight and pipe cutting – expand the functionality of your cordless circular saw for metal by adding an optional guiderail or pipe adapter
On the Nuron battery platform – cordless circular saws without compromise thanks to longer-lasting batteries, energy-saving blades and a range of services to keep you more productive, today and tomorrow
Applications
Fast, precise cuts up to 57 mm in metal
Cutting channels, pipes, conduits and profiles
Cutting openings in sheet metal for heating and air conditioning installation
Cutting sandwich panels, mesh and corrugated sheet metal
Corrective cutting and trimming of sheet metal
Services
Product warranty against parts and manufacturing irregularities for 20 years
Service is free of charge up to 2 years, including wear & tear, pick-up and delivery
1 or free, in and out of the repair center the same day or repair is free of charge
More information about Tool Services
Fleet Management
We manage your tools so you can manage your business.
Monthly usage fee covering all tool, service and repair costs helping to ensure absolute cost control and back-office efficiency.
High-performing tools and latest technology help to increase jobsite productivity.
Loan tools during repair to reduce downtime.
Temporary tools for peak times and special applications help to reduce investments.
Theft coverage helps to reduce financial risk and unexpected expenses.
More information about Fleet Management