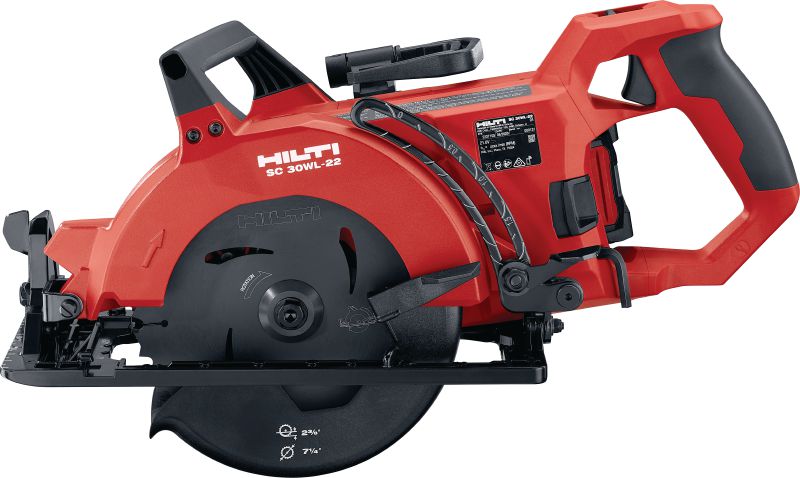 Move cursor over image to zoom.
Click on image to zoom.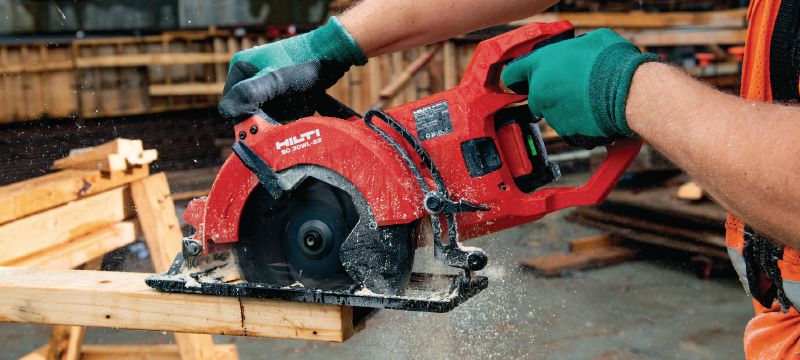 Move cursor over image to zoom.
Click on image to zoom.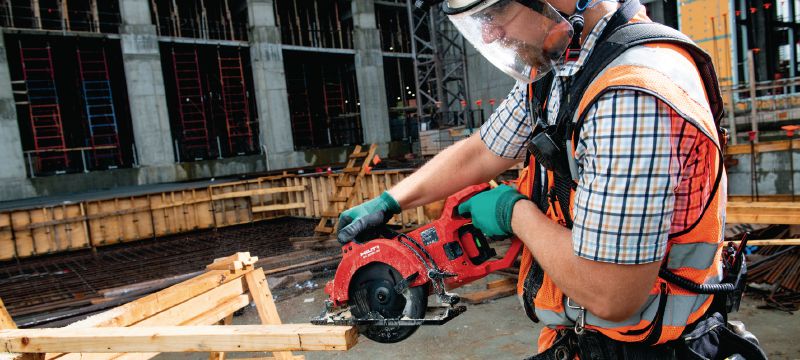 Move cursor over image to zoom.
Click on image to zoom.
SC 30WL-22 Cordless worm drive-style saw
New product
Item #r13250365
Cordless worm drive-style saw with brushless motor for precise, heavy-duty cuts up to 2-3/8" depth using 7-1/4" blades (Nuron battery platform)
Max. cutting depth: 2.37 in
Base material: Wood
Guiding rail compatibility: No
More technical data
Review
Features & Applications
Features
Doubled run time per charge – Nuron battery technology and brushless motor deliver our longest interrupted working time yet
High 4700 rpm cutting speed – engineered to deliver cutting performance comparable to a 15A corded worm drive saw, but with better heat management to get through bigger, tougher jobs
Designed for comfortable control – weighing in under 12 lbs. with a B 22-170 battery, with LED and rear handle grip to help make precise cuts quicker and easier
Virtually dust-free sawing – link this cordless wood saw to an external vacuum via the optional adapter to help minimize airborne dust while you work
Nuron battery platform – cordless power tools without compromise thanks to longer-lasting batteries, time-saving blades and a range of services to keep you productive, today and tomorrow
Applications
Straight, accurate cuts up to 2-3/8" depth
Bevel cuts at 0-50° angles
Cutting solid wood – including production wood, hardwoods, battens and pressure-treated lumber
Cutting wood-based board – such as HDO, MDO, plywood and OSB
Precise, straight cuts up to 61 mm depth
Services
Product warranty against parts and manufacturing irregularities for 20 years
Service is free of charge up to 2 years, including wear & tear, pick-up and delivery
1 or free, in and out of the repair center the same day or repair is free of charge
More information about Tool Services
Fleet Management
We manage your tools so you can manage your business.
Monthly usage fee covering all tool, service and repair costs helping to ensure absolute cost control and back-office efficiency.
High-performing tools and latest technology help to increase jobsite productivity.
Loan tools during repair to reduce downtime.
Temporary tools for peak times and special applications help to reduce investments.
Theft coverage helps to reduce financial risk and unexpected expenses.
More information about Fleet Management