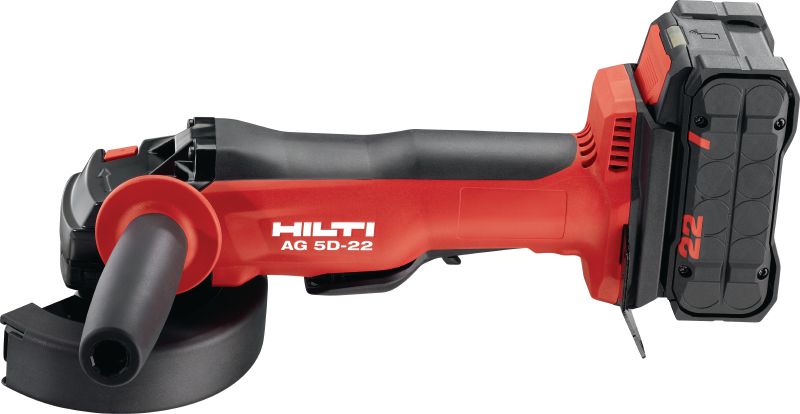 Move cursor over image to zoom.
Click on image to zoom.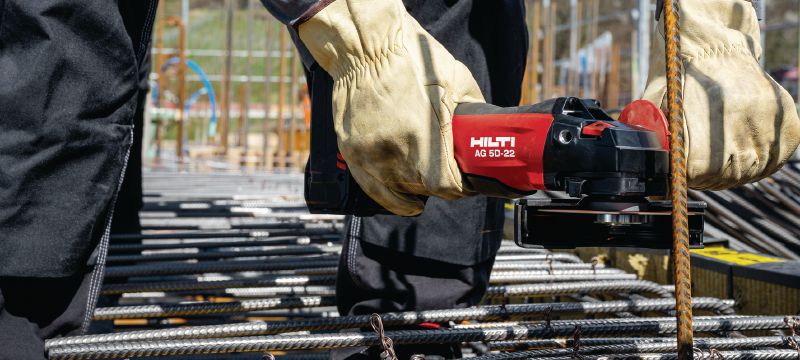 Move cursor over image to zoom.
Click on image to zoom.
AG 5D-22 Cordless angle grinder (5")
New product
Item #r13009738
Cordless brushless angle grinder with dead man's switch for everyday cutting and grinding with discs up to 5" (Nuron battery platform)
Rated voltage: 21.6 V
Tool body weight: 3.5 lb.
Max. cutting depth: 1.34 in
More technical data
Review
Features & Applications
Features
Compact, cordless 5" angle grinder for everyday cutting and grinding around the jobsite
More cuts per charge – upgraded run time thanks to the combination of brushless motor and longer-lasting Nuron batteries
Active Torque Control (ATC) – stops the grinder from spinning if the disc jams
Comprehensive safety features – dead-man's paddle switch, disc brake, soft start and auto shut-off
Improved ergonomics – low weight and comfortable balance makes the grinder less tiring to use in any position
Applications
Cutting rebar, pipes and sheet metal
Cutting and grinding concrete, masonry, stone or roof tiles
Notching, grinding, deburring and finishing metal surfaces
Services
Product warranty against parts and manufacturing irregularities for 20 years
Service is free of charge up to 2 years, including wear & tear, pick-up and delivery
1 or free, in and out of the repair center the same day or repair is free of charge
More information about Tool Services
Fleet Management
We manage your tools so you can manage your business.
Monthly usage fee covering all tool, service and repair costs helping to ensure absolute cost control and back-office efficiency.
High-performing tools and latest technology help to increase jobsite productivity.
Loan tools during repair to reduce downtime.
Temporary tools for peak times and special applications help to reduce investments.
Theft coverage helps to reduce financial risk and unexpected expenses.
More information about Fleet Management