HILTI INTRODUCES NEW TIME SAVING DIGITAL LAYOUT TOOL
Hilti's newest single operator layout tool PLT 400 increases jobsite efficiency and accuracy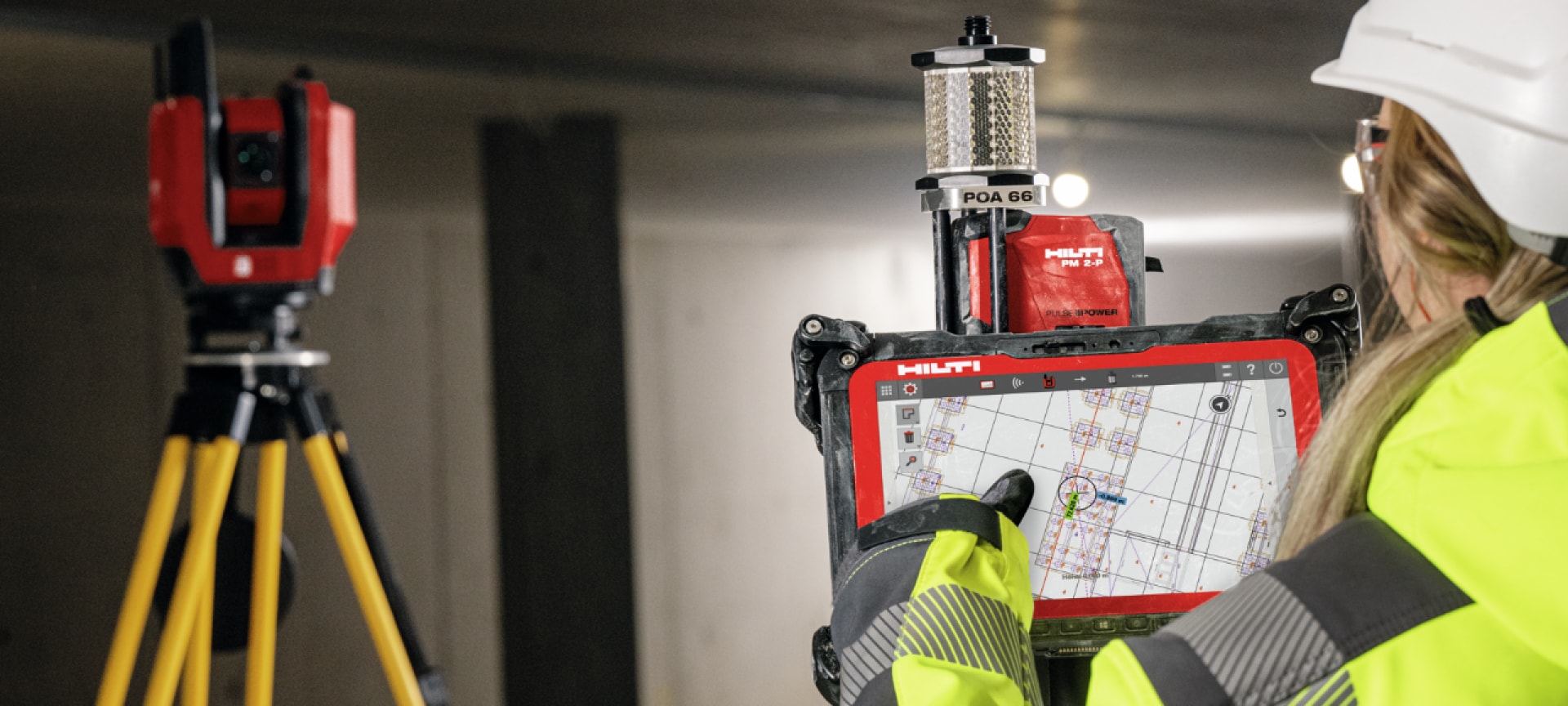 PLANO, TEXAS – January 26, 2023 - Hilti North America, a global leader providing innovative tools, technology, software, and services to the commercial construction industry, introduces the PLT 400, a digital layout tool designed to help jobsite layout crews be more productive.

With continued labor shortages and jobsite restrictions, single operator tools like the PLT 400 are essential. Hilti's PLT tool technology allows layout to be completed more quickly, efficiently, and accurately. This tool also brings improved accuracy, faster layout speed, advanced prism tracking, auto calibration, and requires minimal training to use. The benefits of improved technology, fewer labor hours, and faster layout all combine to create a cost-saving and productivity increasing solution for jobsites.
The PLT 400 can take BIM (Building Information Modeling) designed digital plans and lay them out, without the time consuming need to create points on the plans first. It can also be used during the building process to help keep your BIM model up to date, contributing to a highly efficient end-to-end workflow. Hilti's digital construction software is also compatible with Revit, AutoCAD, and other professional layout platforms.
"We took customer feedback on our previous total stations and addressed those pain points with the launch of the PLT 400," said Michael Haugtvedt, Product Manager for measuring. "This camera-based tool has enhanced prism tracking and upgraded communications making sure you stay connected and increase layout productivity on the jobsite, while a built-in calibration module helps ensure your layout is within spec every time you turn the tool on."
The layout tool integrates seamlessly with Hilti's full ecosystem of solutions including ON!Track and Fleet program. Beyond having high performing tools and the latest technology at their fingertips, Fleet customers also benefit from free verification of tool accuracy in accordance with manufacturer's specifications, as well as theft coverage to reduce financial risk and unexpected expenses.
The PLT 400 is backed by an industry best Tool Warranty* and will be available later this month throughout the U.S. and Canada. 
PLT 400 CONSTRUCTION LAYOUT TOOL
Making construction layout easier and more precise
Total stations have helped turned the slow and error-prone two-person task of laying out formwork, anchor points, slopes or interior wall partitions into a routine job for a single worker. 
With the next generation PLT 400 total station you can quickly set up onsite with one button operation, self-leveling and automatic calibration feature. Combined with the PLC 600 layout tablet and Hilti construction layout software, this higher performing solution will help guide and improve your productivity on your job site.
About Hilti
Hilti supplies the worldwide construction industry with technologically leading products, systems, software, and services that provide construction professionals with innovative solutions and superior added value. In North America, there are more than 3,800 team members who share Hilti's corporate culture based on integrity, teamwork, commitment, and the courage to embrace change. Hilti calls Texas its North American home since relocating its headquarters to Plano in 2015.