Corporate Responsibility
Our values empower responsibility
Caring about corporate responsibility has been part of our culture right from the moment we were founded in 1941. It has also been an integral part of how we do business. We believe that being responsible goes hand in hand with long-term success, and we want to be proud of the mark we make on the world. 

Corporate Strategy And Values
Hilti acts ethically, always has and always will. We exercise responsibility towards our own team members, our customers, partners and suppliers as well as in the way we treat the environment and society.  We believe that being responsible goes hand in hand with long-term business success.

Core Values
Our sense of responsibility is lived by our 30,000 team members worldwide
Our values – integrity, courage, teamwork, and commitment – define how our teams work together and how they work with our partners based outside our company too.
We want to build a company where every team member is valued, grows and does well in their career.
We want to build open, trusted and successful relationships with our customers, partners and suppliers.
We believe in giving back to society and the environment and in a real way – whether that's helping to build affordable housing, travelling to give disaster relief in person, or just helping to tidy up a neighborhood.
And we want to continue to build on our success and produce more cutting-edge technologies to empower our customers to create safe, productive and awe-inspiring builds.
Our sense of responsibility, embedded deep in our culture, is lived by our 30,000 team members worldwide, everyday, everywhere.
Our Strategy - Champion 2020
Our strategy stands on the strong foundation of our "caring and performance oriented" culture
Hilti aims to achieve sustainable value creation through leadership and differentiation. By offering products, services and software that provide superior productivity and safety to our customers, we show that we are different from the offering of our competitors.
In order to implement our strategy, we focus on four areas that constitute Hilti's core competencies:
Continuous innovation in products, services and software
Direct and partnership-based cooperation with our professional customers
Operational excellence in everything we do for efficiency and to live up to our brand promise
A high performing global team
Hilti North America Gives Back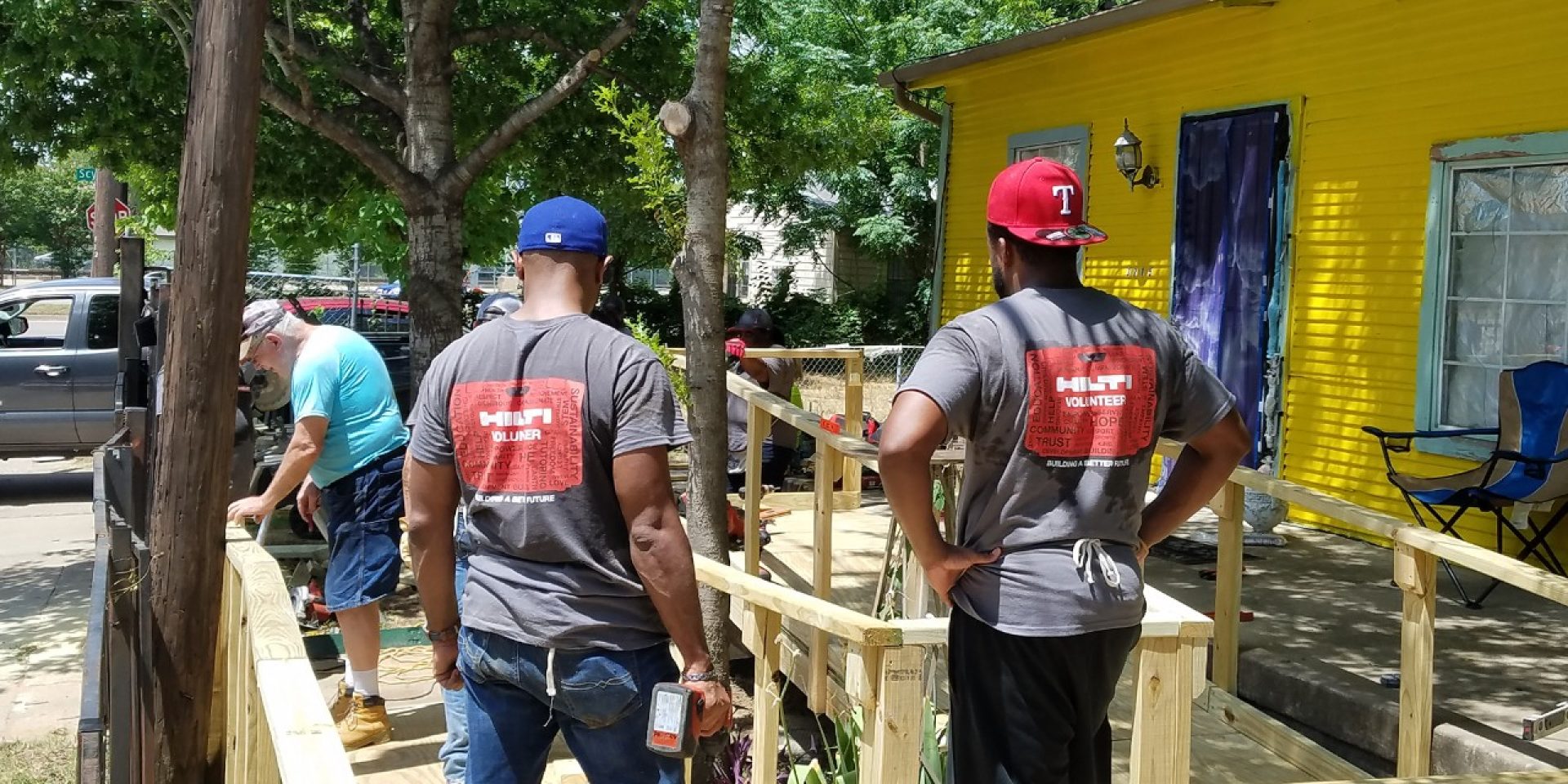 Giving back is at the heart of who we are.
Here at Hilti North America, team members are encouraged to give back to their local communities. Team members across the U.S. and Canada volunteer their time and efforts to build a better future where we live and work.
We stand behind our words, too. Each team member receives two paid days off annually to volunteer as they see fit, with an organization or cause they're passionate about.

We provide lots of opportunities to serve and explore.  For example:
Habitat for Humanity – Team members put their job on hold for a couple of days to help build houses for people who don't have a home or the financial ability to own or rent one. Team members are part of a team that sets the supports, lays the bricks, raises the roof and personally gives the key to the new tenants. Each new class of team members spends one day of orientation using their new Hilti tool knowledge to contribute on a Habitat home

United Way Day of Caring – Team members spend the day working in a food bank or animal shelter, delivering Meals on Wheels or tidying up a neighborhood. It could be painting a fence or fixing a playground slide, looking after an elderly person or going into a school to talk to girls about careers in construction.
Other organizations we support through volunteer efforts are food banks, the American Red Cross, American Heart Association, C5 Youth Foundation, City Square, Girl Scouts, Make a Wish, the Salvation Army, SBP. And, that's just the beginning.
Legal, ethical behavior and fair competition are integral components of all of our actions. Our business activities are based on honesty, reliability, consistency and predictably – at all times and at all locations.
This is the crucial basis for our relationship of trust with all our stakeholders, customers, suppliers and partners.
International Partnerships against Corruption
We participate in key international initiatives against corruption. But we also go above and beyond, requiring our company to consistently counter corruption and bribery and to maintain social and environmental standards.
Partnering Against Corruption
In 2004 Hilti signed the Partnering Against Corruption Initiative at the World Economic Forum in Davos, Switzerland. This aims to introduce anti-corruption measures in the construction industry, worldwide. In doing so we underscore that Hilti has a zero-tolerance policy towards bribery.
UN Global Compact
In 2006 Hilti joined the UN Global Compact, which is also clearly aimed against corruption. This global agreement, under the patronage of the United Nations, obliges companies to maintain social and ecological standards.
Code of Conduct for Employees
We require all our team members to always act within the law and within our own corporate guidelines. Our Code of Conduct for team members lays out how we work and is at the heart of how we do business. All our team members are trained to understand compliance.

Read the Code of Conduct for Employees
Code of Conduct for Suppliers
We contractually require our suppliers to maintain fundamental requirements in the areas of human rights, labor rights, work safety and environmental protection and that they pledge to abstain from corruption. These standards are binding even if applicable national or international laws call for more lenient standards. We monitor our suppliers via various monitoring instruments such as audits.

Read the Code of Conduct for Suppliers