Move cursor over image to zoom.
Click on image to zoom.

Move cursor over image to zoom.
Click on image to zoom.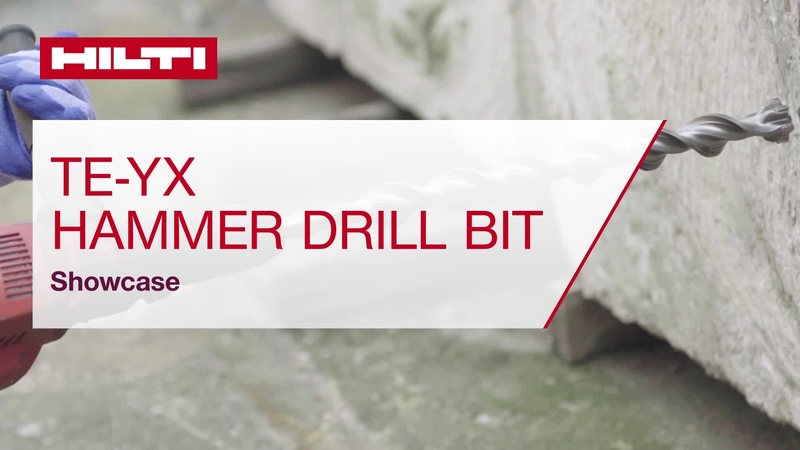 TE-YX Promo (16:9, EN)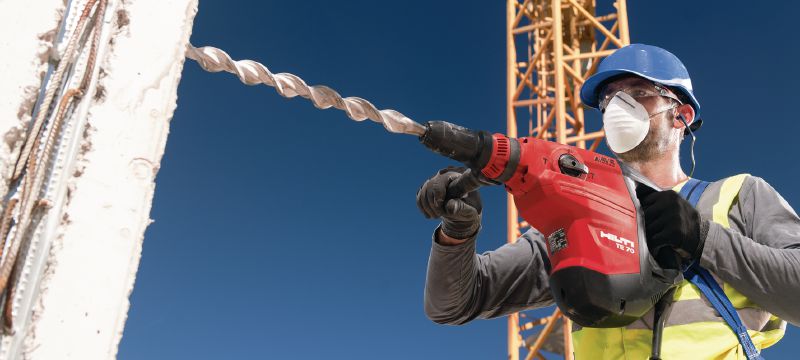 Move cursor over image to zoom.
Click on image to zoom.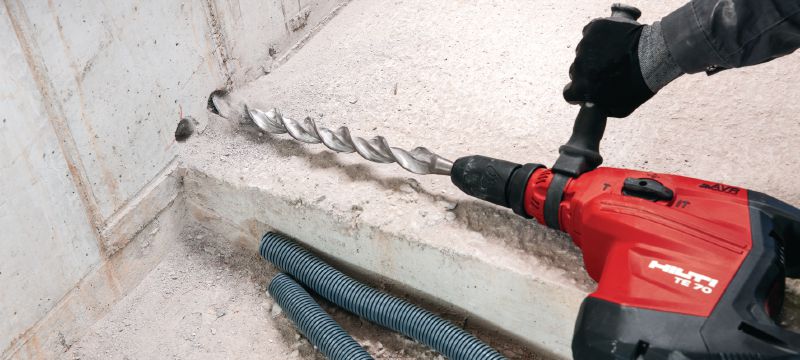 Move cursor over image to zoom.
Click on image to zoom.
TE-YX (SDS Max) Metric hammer drill bit
New product
Item #r1534
Ultimate SDS Max (TE-Y) hammer drill bit for exceptional drilling performance in reinforced concrete (metric)
Connection end: TE-Y (SDS Max)
Base material: Reinforced concrete, Concrete, Masonry, Brick, Limestone
Head shape: Multi Cutter
More technical data
Review
Features & Applications
Features
Optimized multi-cutter (4 or 6-cutter) carbide head – superior drilling performance and less jamming when hitting rebar
Heat-treated flute offers superior wear resistance and maximum robustness, with a wear mark to estimate the bit's suitability for setting anchors
Slimmer and lighter helix for more comfortable drilling and superior drilling speed
Fully embedded drill bit head for maximum robustness and longer life
In the unlikely event of breakage, the drill bit will be considered for replacement as long as the wear mark on the helix is still visible
Applications
Hammer drilling in reinforced concrete, concrete, masonry and other construction materials
Drilling holes for all chemical anchor installation purposes
Drilling anchor holes for all mechanical anchor installation purposes
Installing rebar using Hilti injectable adhesive mortar
Extra-long drill bits available for renovation work, e.g. sealing joints in masonry and concrete to prevent water penetration
TE-YX SDS Max hammer drill bit
Hilti's optimized drill bit portfolio offers up to 30% longer bit life for reinforced concrete drilling applications
One third of drilled holes involve hitting rebar, which creates delays that can quickly add up down the line.
The new 1/2" and 5/8" TE-YX drill bits have 13x more lifetime on rebar versus the previous generation. Additionally, the entire TE-YX portfolio has up to a 30% longer lifetime for drilling in reinforced concrete.
With the largest size range offering in the market, Hilti is the top choice for all your concrete drilling jobs. 
Drill faster in concrete, even when hitting rebar
The first ever SDS Max six-cutter drill bit: 1-3/8" and up
New additional cutting edges on bit diameters 1-3/8" and up offer an improved hold on base material and minimize direct or partial rebar hits that often cause a bit to jam.
Advantages at a glance
Up to 50% longer lifetime
Virtually no jamming in rebar hits
Stronger and lighter body construction
The four cutting edges TE-YX redesigned: 1/2 to 1-1/4"
Redesigned by our engineers for increased effectiveness on reinforced concrete, our 1/2" to 1-1/4" drill bits feature optimized heads with four cutting edges.
Advantages at a glance
Up to 30% faster rebar drilling saves valuable time
Optimized full carbide head for aggressive drilling progress and longer lifetime
Backed by a wear mark warranty
We stand 100% behind our TE-YX drill bits. Our warranty is simple and easy on the customer. No need to track receipts or read between the lines of fine print. Simply put, if your bit breaks, bends, or becomes unusable and the wear mark is still visible, we'll replace it at no charge to you.