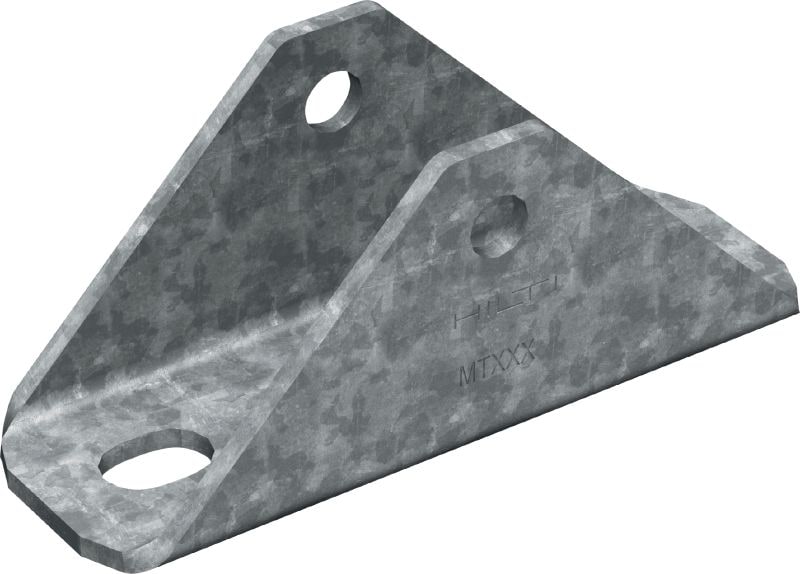 Move cursor over image to zoom.
Click on image to zoom.
MT-AB A OC Adjustable brace fitting
New product
Item #r12283775
Adjustable brace for anchoring bracing of MT-40 and MT-50 strut channel structures to concrete, for outdoor use with low pollution
Material composition: Q235 or better steel
Surface finish: Outdoor Coated - HDG
Weight: 1.2 lb.
More technical data
Review
Features & Applications
Features
Part of the Hilti MT system – an economical, all-in-one solution for virtually all modular MEP support structures
Adaptable – unlike welding, modular strut channel framing can be modified for future MEP requirements
Part of a complete Hilti solution – compatible with our direct fastening and anchoring solutions
Extensive software support – PROFIS Modular Support Engineering, the MEP Support Selector, Revit® families, and plug-ins for Staad Pro® and Smart 3D® are all available to streamline design and ordering
Engineering and calculation service available – your local Hilti Engineers can provide advice and calculation services on more complex projects
Applications
Fastening MT strut channel to concrete floors, walls or ceilings with a pivoting connection
Fastening MT strut channel to structural steel with a pivoting connection
Creating a pivoting connection between two MT strut channels
Lateral bracing of lightweight metal framing and MEP support structures
Suitable for use in moderately corrosive environments