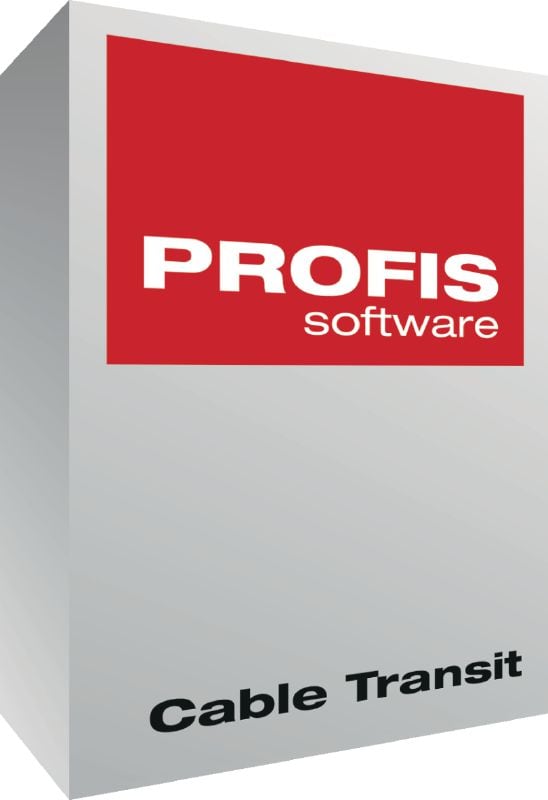 Move cursor over image to zoom.
Click on image to zoom.
Cable Transit Software
New product
Item #r3605371
Software to assist the planning of sealing and fire protection around cables and pipes, in addition to a 3D PDMS Library
Supported operating system: Windows 10, Windows 7
Security and authorizations: Hilti signed software
More technical data
Review
Highlights
Easy-to-use, digitized method of planning sealed cable/pipe penetrations using the CFS-T transit system – helps to reduce scope for errors and speed up the documentation process
Precise planning of Hilti CFS-T cable transits according to the number, size and type of cables required
Transit frames can be added to your project model in one step
Efficient preparation of project-specific firestop parts lists and drawings
Bills of materials (BOM) can be generated automatically from the Hilti parts list
Integration of the Hilti 3D PDMS/E3D Library into your AVEVA® 3D model – place transit frames with one button
PROFIS Cable Transit
Simplify cable transit design
Our free desktop application helps designers and engineers select the right sealing solutions, including cable frames and modules, based on installation type and material. Designers can also incorporate cable transits directly into their 3D models with our 3D Cable Transit Library for AVEVA PDMS and E3D.
PROFIS Cable Transit also makes it easier for purchasers and project managers to generate complete bills of material and place orders directly from Hilti. And, installers and subcontractors can create detailed design layouts and installation instructions for each sealing solution – improving installation accuracy.
Whatever your role in the workflow, our cable transit design software helps you achieve better results with greater ease. 
Mitigate Risk
We're helping you adhere to safety standards from the onset. Using your input parameters, our solution recommendation suggests suitable frames and modules that help you comply with local regulatory codes. You are given the appropriate instructions for installation and filling – helping you be confident your installation will pass inspection. 
Control Costs
Set a budget and stick to it. Automatically generate a complete bill of material based on your design model. The Hilti bill of material includes all the product information needed to quickly place an accurate online order. 
Save Time
Complete every phase of your cable transit project faster. We've integrated and automated the design, purchase, and installation process so you can get from calculation to installation and filling more efficiently. 
Features
Solution Recommendation
Upload or manually enter your cable requirements helping to find code-compliant Hilti cable transit solution recommendations. 
Frame Design
Select your preferred system, such as Standard, EX Atmosphere or EMC Modules, to create custom window frame designs that meet your unique requirements.  
Bill of Material Creation
Generate a bill of material for your entire cable transit project. Export to Excel or PDF for easy ordering. 
Specification Documentation
Access technical specifications, including DXF drawings with frame graphic and filling plan, for each cable transit frame or module. 
Installation Instructions
Generate an installation and filling plan for each solution with the click of a button and pass along to onsite installers.