Move cursor over image to zoom.
Click on image to zoom.

Move cursor over image to zoom.
Click on image to zoom.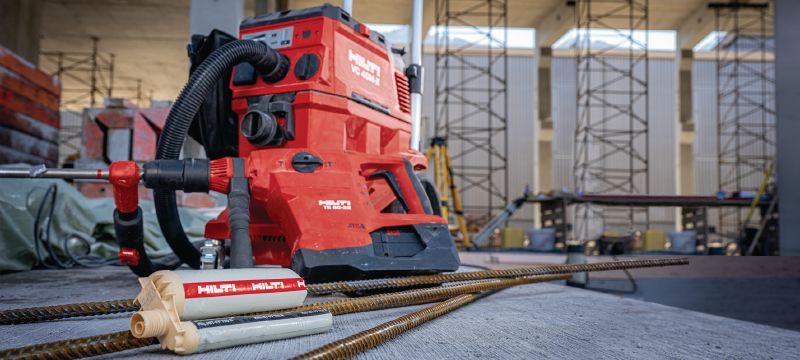 Move cursor over image to zoom.
Click on image to zoom.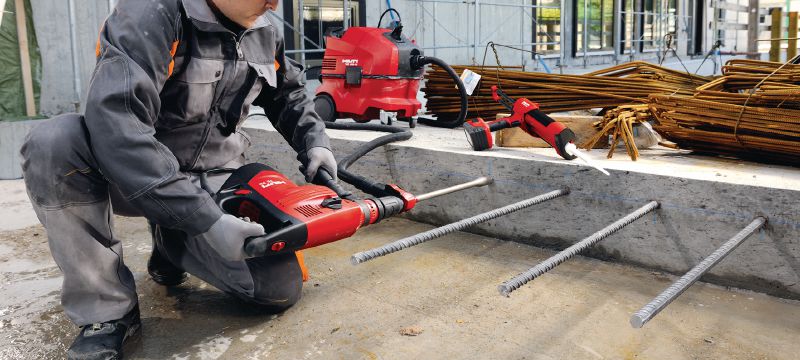 Move cursor over image to zoom.
Click on image to zoom.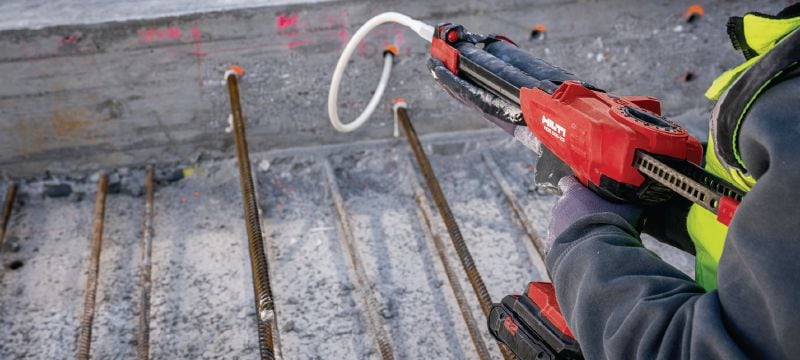 Move cursor over image to zoom.
Click on image to zoom.
HIT-FP 700 R Injectable cementitious adhesive anchor
New product
Item #r13812960
Injectable cementitious adhesive anchor for fire-resistant structural rebar connections
Base materials: Concrete (cracked), Concrete (uncracked)
Base material condition: Dry, Wet
Approvals / Test reports: ETA, Fire
More technical data
Review
Features & Applications
Features
Fire-resisting cementitious adhesive anchor with bond strength performance compared with a cast-in rebar even at temperatures up to 500°C – HIT-FP 700 R provides you the possibility of an efficient and code-compliant solution for most fire-rated structural connections e.g. EC2, Part 1
Extensive range of assessment documents – ETA documentation for fire, static and 100 year working life available
Compatible with the Hilti SafeSet technique – save time on-site and minimize room for installation errors by using hollow drill bits with a compatible Hilti vacuum cleaner
Easier to handle – this cementitious adhesive anchor is compatible with your existing Hilti adhesive dispensers, helping to minimize wastage and time, especially when used with Hilti HDE battery-powered dispensers
Specifier support available – use Hilti PROFIS Engineering software to simplify the design of post-installed fire-rated concrete-to-concrete connections, or contact your local Hilti Engineering Team for advice on complex projects
Applications
Fire-rated post-installed rebar connections, including splice connections between new and existing concrete, new columns, column and beam extensions and closing of openings
Post-installed concrete-to-concrete civil applications, including bridge extensions and diaphragm trench walls
Compared to vinylester and epoxy mortars, FP 700 R is characterized by a longer curing process, similar to normal weight concrete. This product is engineered in such a way as to allow a seamless integration with current state-of-the-art rebar installation processes
For approval or certificate information, please see individual items.
First Ever Fire-Resistant Adhesive Anchor
A better solution for fire-resistant concrete-to-concrete connections
HIT-FP 700 R, the industry's first fire-resistant injectable adhesive anchor for rebar connections, now offers a simpler post-installed solution for concrete-to-concrete connections to help support engineers and contractors build safer fire-rated structures.
Features
Better Fire Resistance
Performance at temperatures up to 923° F regardless of concrete cover
Performance
Full range of approvals for fire, static, seismic, and ICC-ES reports
Safer Design Solutions
Help reduce complexity and the need for over-designing utilizing Profis C2C software
Easier Handling
Improved efficiency when paired with the HDE 500-22 adhesive dispenser powered by the Nuron
Dust Reduction
Minimize environmental hazards to help meet higher health and safety requirements with SafeSet installation
Easier Installation
Similar to cast in anchors with easier installations that doesn't compromise the building integrity under high temperatures
Your Complete Structural Rebar Connections System Solution
ENGINEER RESOURCES
PROFIS Engineering
Helping Engineers Create the Future
With the industry rapidly evolving, we are here to help empower engineers for the future with new technology, leading design software, and advice from our technical experts.
Explore our rebar connection resources
Technical Support