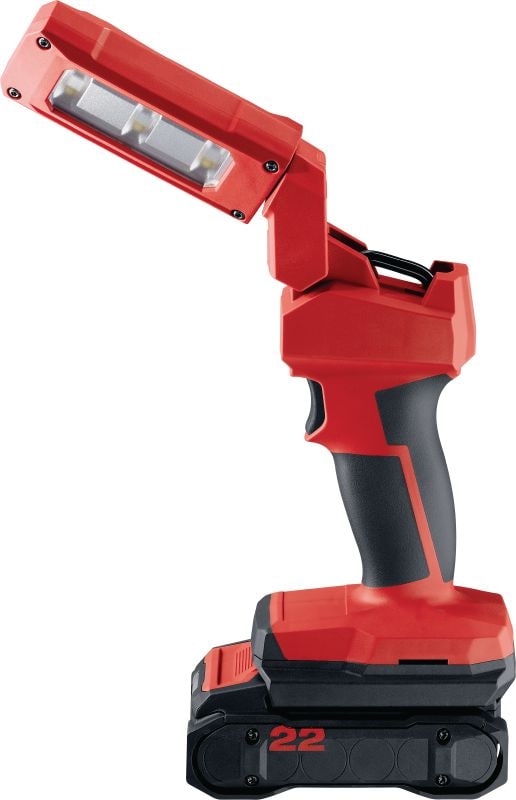 Move cursor over image to zoom.
Click on image to zoom.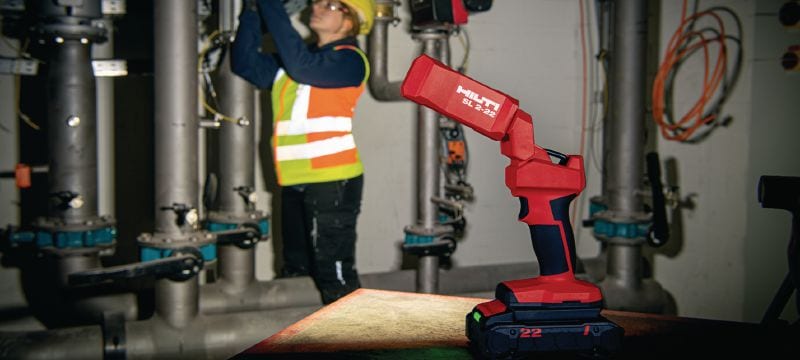 Move cursor over image to zoom.
Click on image to zoom.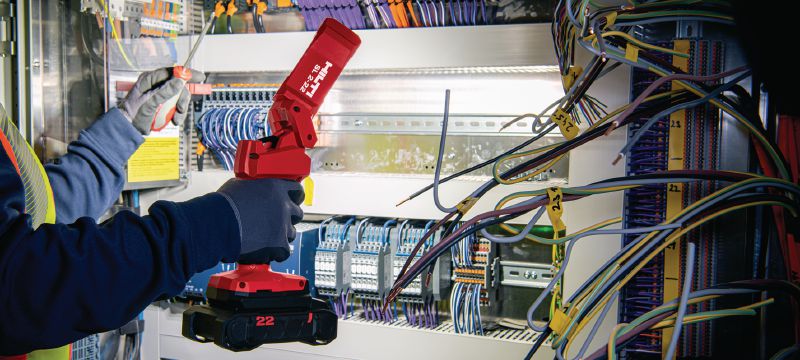 Move cursor over image to zoom.
Click on image to zoom.
SL 2-22 LED work light
New product
Item #r13275666
Cordless LED work light with all-day battery life, rotating head and large hook for illumination of one-person jobs (Nuron battery platform)
Review
Features & Applications
Features
One charge per workday – get a full day of light at 100% brightness thanks to high-capacity, high-output Nuron batteries (with B22 2.6 battery)
Clearer visibility – specially engineered LEDs direct even, natural light color in three brightness modes to your work area (illumination up to 500 lumens/350 Lux at 1 m distance)
Multiple attachment options – retractable belt hook, magnetic holder (optional), stable base and pivoting head mean you can position the light on a wide range of construction equipment
Low battery warning – the work light maintains constant brightness, but will warn you of low batteries with enough time to get to a charger
On the Nuron battery platform – cordless LED work lights without compromise thanks to longer-lasting batteries and a range of services to keep you more productive, today and tomorrow
Applications
Illumination of personal work areas – can be hung from or attached to a wide range of objects nearby, such as pipes, ladders, scaffolds and rafters
Inspection of surface finishes (such as paint or drywall)
Suitable for use in confined spaces (housing stays cool to the touch and LEDs don't emit extreme heat)
Services
Product warranty against parts and manufacturing irregularities for 20 years
Service is free of charge up to 2 years, including wear & tear, pick-up and delivery
1 or free, in and out of the repair center the same day or repair is free of charge
More information about Tool Services
Fleet Management
We manage your tools so you can manage your business.
Monthly usage fee covering all tool, service and repair costs helping to ensure absolute cost control and back-office efficiency.
High-performing tools and latest technology help to increase jobsite productivity.
Loan tools during repair to reduce downtime.
Temporary tools for peak times and special applications help to reduce investments.
Theft coverage helps to reduce financial risk and unexpected expenses.
More information about Fleet Management