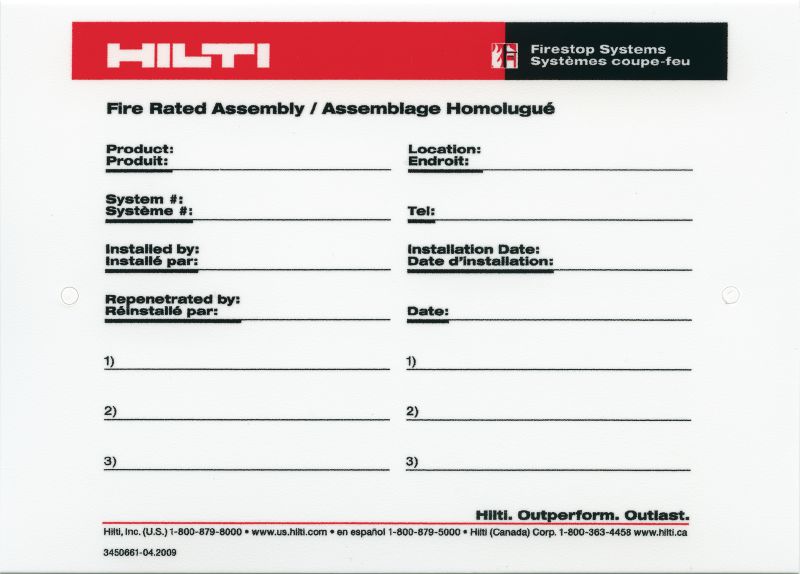 Move cursor over image to zoom.
Click on image to zoom.
Firestop system plastic label
New product
Item #3450661
Identification signage for firestop installations, making them uniquely identifiable for monitoring and inspection purposes using Hilti Documentation Manager software
Review
Features & Applications
Firestop system plastic label
#3450661
Features
Simplify coordination and maintenance thanks to easier identification
QR code for easy registration in Hilti Documentation Manager
Enhance productivity and collaboration
Applications
These ID plates make it easier to document passive fire protection installations for inspection and maintenance. By making each firestopped cable/pipe penetration uniquely identifiable, you can save maintenance schedules, exact location and product details.
Once saved in the Hilti Documentation Manager software, you have instant access to essential details about specific fire protection installations around your buildings. This gives you a centralized maintenance record and archive of inspection-relevant information.
With these specially designed labels, documentation becomes as quick as taking a photo on your smartphone. Hilti Documentation Manager software gives you and your partners access to the fire protection records from virtually anywhere via PC software and a mobile app.
Technical Data
Firestop system plastic label #3450661
Documents & Videos
Firestop system plastic label #3450661