Hilti provides worldwide leading-edge technology to the international construction professionals. Hilti products, systems and services offer innovative solutions with outstanding added value to customers in the construction and building maintenance industries. The headquarters of the Hilti Group are in Schaan in the Principality of Liechtenstein.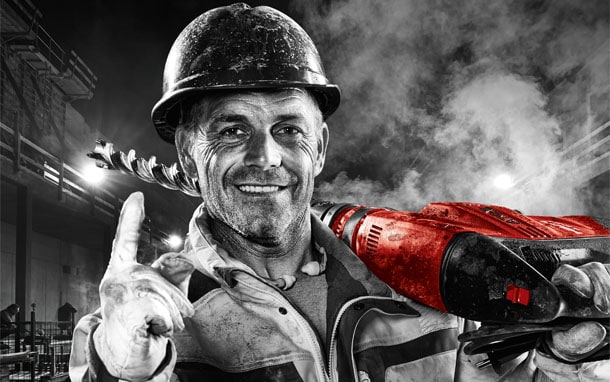 Contact us
Hilti (Philippines) Inc.
Robinsons Cyberscape Beta 9th Flr
Between Topaz & Ruby Rd,
Ortigas Ctr, Pasig City
The best products come with the best services.
We offer a full range of services to ensure higher productivity and greater safety to help our customers maximise their business.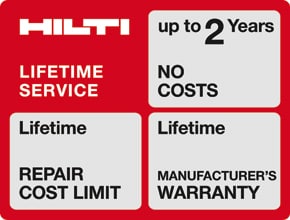 Hilti Lifetime Services
Hilti tools are built to last. But even if a defect occurs, Hilti will take care of it quickly and professionally, completely free of charge for up to 2 years from the date of purchase. After that we put a limit on what a repair can cost – for as long as you keep on using your Hilti tool. We even give you a lifetime manufacturer's warranty against manufacturing defects. That's not just reassuring to know, it's unique in the power tools business.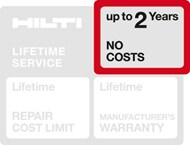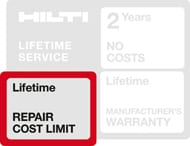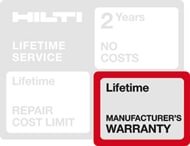 No repair costs whatsoever for up to 2 year* from date of purchase!
This includes:
Pick-up – just give us a call.
Labour costs.
Faulty parts and parts subject to wear and tear.
Servicing when indicated by the service indicator on the tool.
Functional check, adjustment and safety check.
Li-ion batteries & chargers
After this, Hilti sets a repair cost limit – for the entire life of the product!
Should the cost of the repair remain below this limit, you pay only the actual cost.
Quality guaranteed: For 1 month after every repair, you benefit from the same free-of-charge service, you would have with a new product.
Hilti repairs or replaces, free of charge and over the entire life of the product, all tools that suffer break-downs as a result of:
Faulty materials.
Manufacturing defects.

Hilti Logistics Services

You order it – we deliver it using the latest technology.
All standard orders are delivered next day or on the day of your choice.

Logistics Support
Hilti logistics support ensures that you receive the right product, at the right place, at the right time. Our logistics co-ordinators plan the delivery and organise the distribution centrally. Therefore you do not have to worry about getting your products delivered, you can focus on getting the job done.

Quick and Special Delivery
If you require a same day delivery or want us to deliver at a given time to a specific job site, just call our Customer Services Advisors for more details at +632 7847100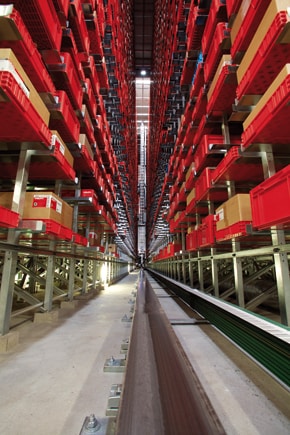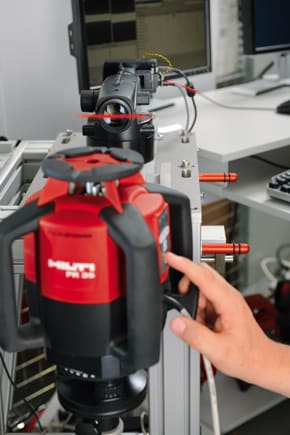 Hilti Repair Services
A repair service that goes beyond just fixing tools.
Outstanding service and quality
Trained Hilti technicians
State of the art repair facilities for a seamless repair process
Functional checks, adjustments and safety checks
Old tool trade-in and recycling according to WEEE standards

Industry leading speed
Elimate repair quotes through upfront advice and repair cost limit
Calibration included
Calibration of your measuring tools free of charge under Hilti Lifetime Service
Regular checks ensure your measuring tools continue to operate reliably and in accordance with applicable standards and statutory requirements
Calibration certificate issued to confirm the tool meets specifications
Sticker to record date of last calibration

Engineering and technical support
Helps make every project a success.
Project tendering, planning and support
Our experienced technical staff gives you support that ensures things are done right the first time. We can help with bidding, norm and non-norm specification and provide individualized catalogs. Plans, materials lists, calculations and drawings for larger projects are part of the package. Hilti project managers assist by coordinating logistics services and technical support for defined projects.
On-site technical consulting
Our engineers and technicians provide on-site support at any location. They offer a consulting service for architects, planners, engineers and construction professionals on specific application needs. Training and certification are also part of the service.
Product customization
We offer pre-assembly of parts and make product kits or packages and customized items available to help increase the efficiency of your projects.

Technical software and documents
Our innovative and practical software solutions are available to support you in your daily work and cover everything from anchor design and selection to installation concepts. Technical documents such as approvals, test certificates and technical data sheets can be viewed and downloaded from Hilti Online –
www.hilti.com.ph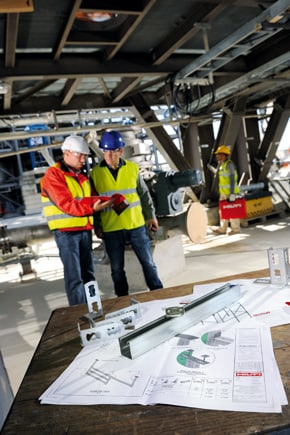 How to get in touch with Hilti?

There are lots of ways to get in touch with Hilti through our various channels. On the phone, online, in Hilti Centres and at your place of work.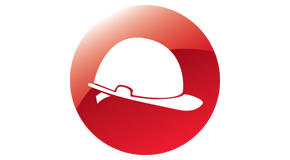 Account Manager
If you need professional advice, product and system demonstrations or application advice at your place of work or on-site, Customer Services can put you in touch with one of our expert Account Managers or Technical Sales Representatives to visit you.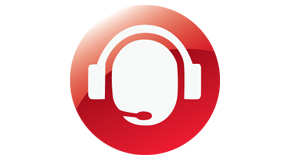 Customer Service
Our highly trained team of Customer Services Advisors are available Monday to Friday 8.00am to 5.00pm. They can help you with product advice, orders, deliveries, locating your nearest Hilti Centre and contacting your local Account Manager.
Toll free : +632 7847100
Fax : +632 7847101
Email:
customerservice.ph@hilti.com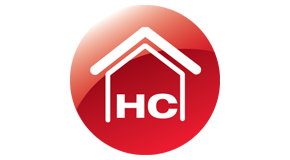 Hilti Centres
Our national network of Hilti Centres are much more than display or sales points for Hilti products. Hilti Centres can give you product and application advice plus demonstrations of tools and systems. You can also order or purchase tools and consumables.
Please click here for our Hilti Centre locations
Hilti Centres Business Hours:
Monday - Friday
08:00am to 05:00pm
Saturday
8:00am to 12:00pm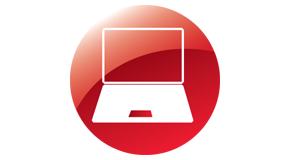 Hilti Online
Hilti's website is available for around the clock advice and information.
Easy to use, Hilti Online provides a wide range of features and information, including an online catalogue of products, and Anchor Design Centres, plus our extensive technical library and details of your local Hilti Centre.
Technical software solutions
Software Download
Location
Region
Address
ZIP Code
Opening hours
Telephone
Davao City
Mindanao
164 R.Castillo St.
Agdao
8000, Davao City
Mindanao
customerservice.ph@hilti.com
8000
Monday - Friday: 8:00 a.m. - 5:00 p.m.
Saturday: 8:00 a.m. - 12:00 p.m.
Sunday closed
082 234 5755 to 56
Cebu City
Visayas
98 M. Velez St.
Guadalupe
6000, Cebu City
Visayas
customerservice.ph@hilti.com
6000
Monday - Friday: 8:00 a.m. - 5:00 p.m.
Saturday: 8:00 a.m. - 12:00 p.m.
Sunday closed
032 255 0850
Makati City
Metro Manila
2256 Pasong Tamo Extension
Edsa, Brgy. Magallanes
1224, Makati City
Metro Manila
customerservice.ph@hilti.com
1224
Monday - Friday: 8:00 a.m. - 5:00 p.m.
Saturday: 8:00 a.m. - 12:00 p.m.
Sunday closed
02 784 7100
Careers and job offers information
Discover a global company where you can develop your full potential. Hilti is different. There are many reasons for you to join our team:
We fulfill our brand promise: "Hilti. Outperform. Outlast."
Team members are at the core of Hilti success. That's why we continuously invest in their development.
We live our corporate values: integrity, courage, teamwork and commitment.
Hilti is a family-owned company that stands for sustainable, profitable growth. Hilti is regularly rated among the "Best Employers" worldwide.
We deliver exceptional rewards that attract, motivate and retain talented people who drive profitable growth.
Contact: