X-Change Modules for Core Bits
A leading-edge solution for concrete coring productivity.
If you've ever drilled with conventional diamond core bits—particularly in heavily reinforced concrete or other difficult materials—then you know that getting stuck is an all-or-nothing situation. Productivity grinds to a halt until you can free the entire core bit—whether it's binding on rebar, aggregate or the walls of the core hole itself.
By contrast, the ingenious two-piece design of the Hilti X-Change Module System gives you instant access to solving jam problems.
1. Gain easier access to the cutting edge by disengaging the barrel from the cutting module and removing the barrel from the hole.
2. Break out the already drilled portion of the core segment to access and remove the cutting module.
3. You can even re-tip right on the jobsite in just minutes.
This is on-the-job productivity you need to see to appreciate, so view the attached video or contact your Hilti representative for an X-CM demo on your site today.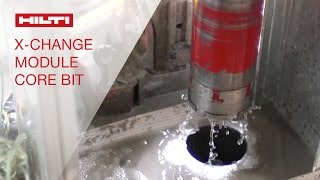 Gain these core advantages in your operations
The X-Change Module concept creates multiple ways to enhance core drilling productivity across a variety of tough materials—concrete, reinforced concrete, rebar, concrete block, natural stone, masonry, clay brick, and more.

Save time. Free "stuck" bits quicker and easier than with conventional core bits.
Speed up productivity. X-Change Module core bit barrels let you re-tip without special tools or extra steps.
Minimize waste. Simply replace a worn X-CM module with a new module instead of replacing the entire core bit.
Triple barrel life. One barrel lasts at least as long as the cutting segments on three X-CM modules.
Conserve space and weight. One barrel and three cutting modules deliver the same performance as three bits, but store in just 33 percent of the space with just 33 percent of the weight.
Work faster. Achieve best-in-class speed while wet coring with the LCS X-CM module.
Work longer. Experience best-in-class performance life while wet coring with the LCL X-CM module.
Be more versatile. Switch to dry hand-held coring in unreinforced masonry by changing to the LM X-CM module.