FIRESTOP TOP TRACK SEAL CFS-TTS
This fire protection system has you covered, at the wall top
For interior gypsum-board walls using metal frame construction this unique Hilti firestop solution provides a lot more than just fire protection with a lot less effort.  Because it is designed to conform to the shape of top-of-wall metal tracks, it fills the gap between the metal and concrete surfaces to help overcome concrete imperfections and help seal out fire, smoke, and sound drafts. 
Eliminate the need for messy caulks and sprays
The all-in-one design of Hilti Firestop Top Track Seal CFS-TTS eliminates cumbersome cleaning and installation steps associated with firestop caulks and sprays to improve job site productivity. Simply roll the strip out, cut to length as necessary, wrap the metal track and install it as you would a bare track before installing the gypsum board. Hilti Firestop Top Track Seal CFS-TTS delivers a continuous seal and has been tested and approved per the revised UL 2079 standard.
Simple Installation
What our customers are saying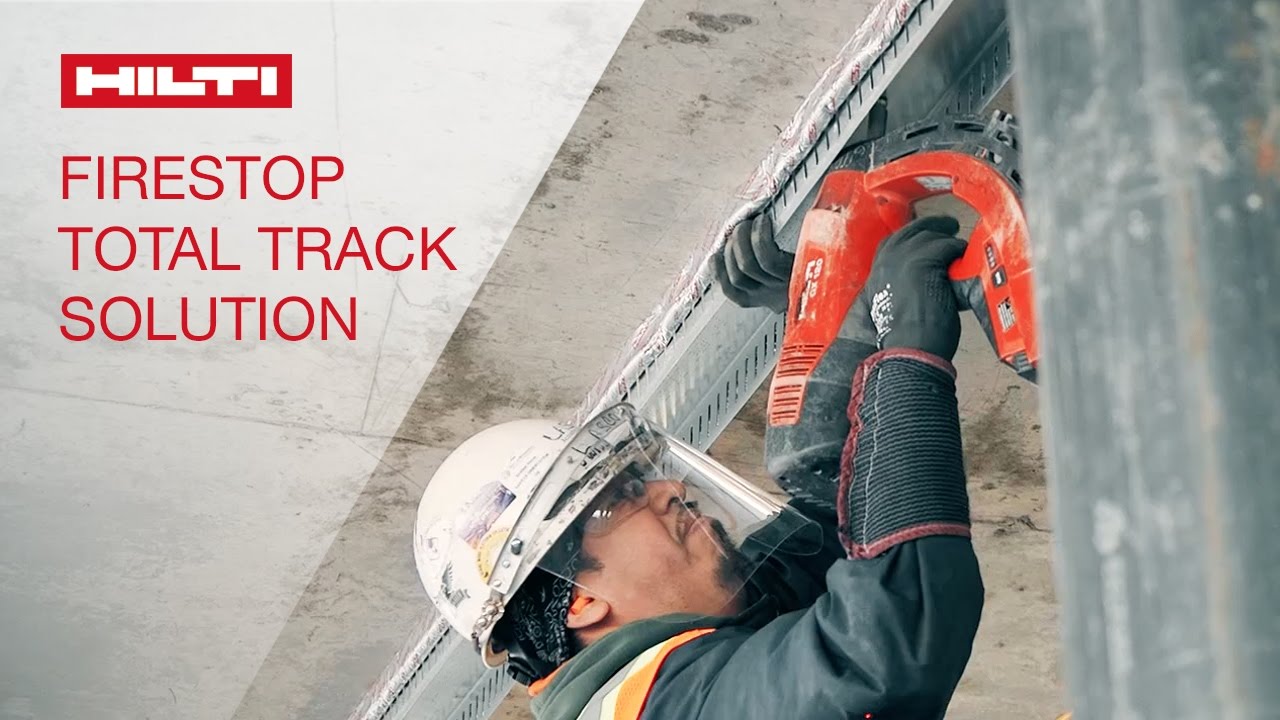 Stopping fire is just the beginning
Recent trends in construction demand greater performance in acoustics, energy efficiency, mold resistance, and others. Top Track Seal (CFS-TTS) blends these design requirements in a single firestop solution.
Superior acoustics
STC of 57 (single wall)
STC of 61 (double wall)
Air Leakage
L-ratings less than 1 CFM/LF at ambient and 400°F (hot and cold smoke) for ALL listed firestop systems

Deflection
2-3 times the movement of sealants depending on system
Water
Mold and mildew resistant (ASTM G21)
No wash off
Finish
No sealant mess
Joint can be left exposed or can be finished with tape and mud, deflection beads, caulk, etc..

Performance
Firestop tested systems with fire ratings up to 2-hrs
Eliminate guesswork. Always proper depth of material
Tested per UL 2079 5th edition (effective summer 2017)
No shelf life
No Red List ingredients
Technical Data
Length: 10 ft
Quantity per box: 20 (total 200 ft)
Storage & transporation temperature: 14°F - 122°F
Application temperature: 23°F - 122°F

Sound transmission classification (ASTM E90) test report available: Up to 61 (per specific construction)
VOC: 22g/L
Mold & mildew performance: Class 0 (ASTM G21)
Surface burning characteristic (ASTM E84): Flame spread: 10; Smoke development: 20
UL tested systems: 1hr & 2hr
Movement capability: Approx. +/- 50%
Air leakage (L-rating): Less than 1 CFM/FL at ambient and 400°F
Living Building Challenge: No ingredients listed on red list
Specify With Ease
Applicable CSI Divisions include 078400 Firestopping, 078443 Joints Firestopping, 092216 Non-Structural Metal Framing.
Systems HW-D-0757, HW-D 0758, BW-S-0039, BW-S-0040, WW-S-0074, WW-S-0075