SafeSet™ Technology and Adhesive Anchors
SafeSet™ Technology and Adhesive Anchors
Why do clean drilled holes matter?
Improper hole cleaning is the largest variable affecting performance of adhesive anchors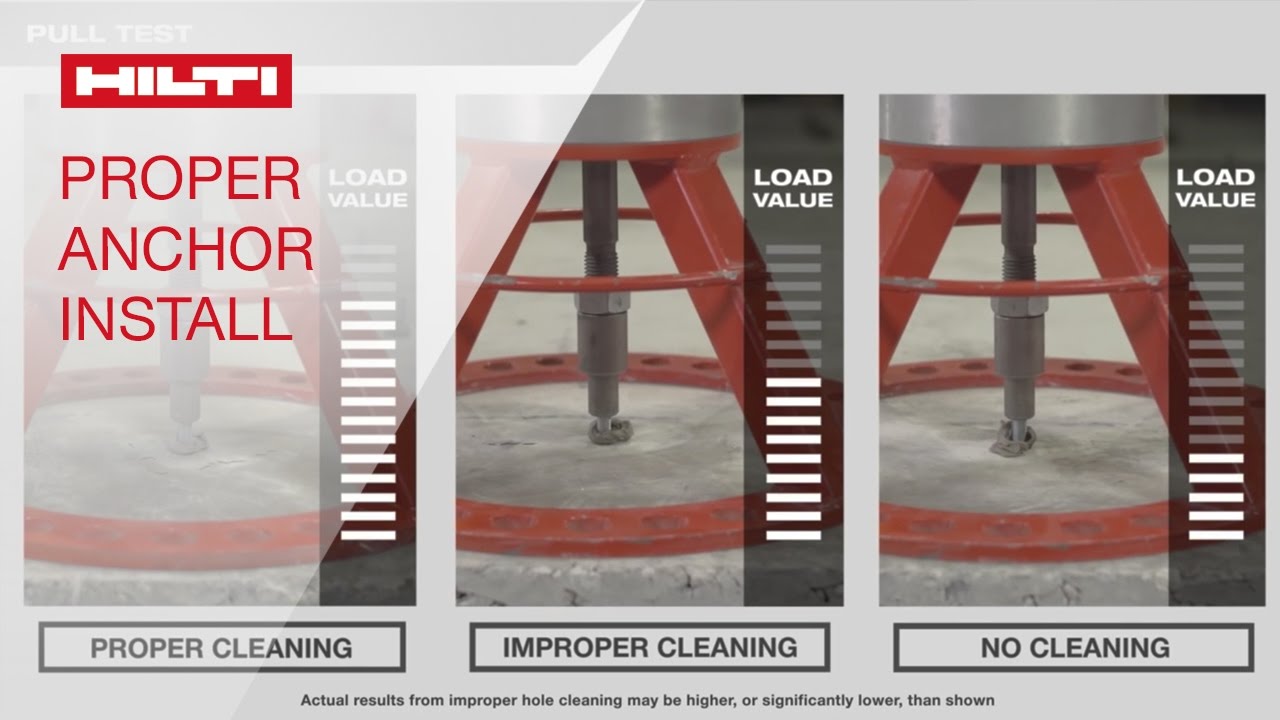 What is the proper way to clean a drilled hole?
Hilti standard hole cleaning method
To properly clean a drilled hole for a Hilti adhesive anchor, the installer must follow the Instructions for Use (IFU) provided with the product. The most common procedure is the 2 Blow x 2 Brush x 2 Blow method using a 90 psi minimum air compressor and matched diameter steel wire brush.
Following this procedure helps to ensure the drill hole is free of dust and debris, giving the adhesive anchor a clean surface to bond to and penetrate the concrete.
Not following the hole cleaning procedure leaves a significant amount of dust and debris in the hole, preventing the adhesive from bonding to the base concrete.
Each manufacturer has its own cleaning method
Other adhesive anchor manufacturers have different cleaning methods, so it is imperative to check the Instructions for Use included with all adhesive anchors.
Installers may not consistently clean drilled holes properly
23 jobsites throughout US
26 different applications observed
31 installer surveys completed
Key Takeaways
77% of drilled holes were not cleaned per IFU
Majority of sites did not have the proper cleaning tools available
74% of installers interviewed believe hole cleaning has a direct effect on performance
Only 27% of installers were using the blow/brush/blow cleaning method
Only 33% of installers knew compressed air was required for proper hole cleaning
Concrete International, V33, No 1, pp. 57-63 01/ 2011
Grosser, P; Fuschs, W.; Eligehausen, R.; University of Stuttgart
How to improperly cleaned holes affect the performance of your design?
Improperly cleaned drilled holes can have a significant effect on the performance of adhesive anchors.
Introducing Hilti SafeSet™ Technology for adhesive anchors
Hilti SafeSet™ Technology
Hilti SafeSet™ Technology is a proven methodology developed by Hilti concrete construction experts to provide new ways for engineers and contractors to reduce installation errors. Hilti offers two SafeSet™ solutions for adhesive anchors. The Hilti HIT-Z, a torque controlled adhesive anchor that does NOT require hole cleaning and Hilti's Hollow Drill Bits combined with Hilti's VC 20/40/150/300 vacuums clean the holes as they are being drilled.

Resources for Specifying Hilti SafeSet™